7th International Combatives Seminar
Friday 4th of September 2009, the unofficial start of the international, 5pm exactly, fellow instructor at Dunbar self defence and training partner for the weekend Stuart Oliver picks me up on the High St and we begin our journey to Merseyside.
Leaving two days of rain behinds us the four hour drive allows us the time to discuss our expectations and goals for the weekend ahead.
Within half an hour of checking in to our hotel we find ourselves in the hotel bar with six other seminar attendees including fellow Scots Dave McCutcheon and Denis McGee, seminar stalwart Nick Engelen from Belgium, and our Norwegian friend Ola Burhol. These meetings with old friends from previous training events are one of the highlights of the international.
Day one (sat 5th sept 09)
More hand shakes and getting re-acquainted with friends as the admin is taken care of and then we are under way.
Dennis gets the introduction out of the way and starts the ball rolling with an overview of NLP and its application to combative training.
First of all looking at modelling, this is a method that has been widely used in martial arts for as long as there has been martial arts, the concept is to model excellence, a student will pay attention to his instructor as he demonstrates a technique, he will attempt to emulate the instructors movement and body language, placing himself in the instructors position, seeing himself carry out the technique in the same manner.
In today's multi-media world we have the opportunity to model many great fighters; we can also model different technique from different fighters, such as punching from a champion boxer, kicking from a Thai fighter and ground work from a jujutsu specialist.
Aspects that Dennis looked at for modelling were :-
Skills
Attributes
Attitude
Confidence
For learning we must choose good role models.
For teaching we must remember that we are the role models and although we can demonstrate gross motor skills at full speed complex skills must be broken down and shown at a slower pace.
Moving on to anchoring, Dennis again breaks it down into anchoring for learning and anchoring for teaching.
One point for learning is to develop the ability to "switch onto" a specific mental state, in its extreme this is the ability to move from a completely calm state to one hundred percent full on aggression and back again as required.
Self anchoring when successful gives us a good platform from which to transition between states.
We can often see professional sportsmen/women using this method with a physical anchor such as clenching a fist, punching the air or clapping their hands, what they are doing is anchoring a successful state by rewarding themselves with a pat on the back.
For teaching – the instructor can apply the physical anchors, something as simple as a hand on the shoulder and those two little words "well done" is enough to anchor a positive emotion that we can later illicit from memory.
Positional anchors was another aspect that Dennis covered, many educators use this method, they will stand behind a table to deliver a lecture and then move around the to the front to answer questions, they are in fact transitioning from a state of commanding authority to a more relaxed state of willingness to share the arena, we see the opposite of this with doormen when they stand back and allow a disgruntled customer to let off some steam before transitioning with an authoritive step forward and the command to move on, that step forward is the trigger/switch that will illicit emotions anchored during previous confrontations.
[Ola, Andy, Stuart, Al and Nick during the presentation]
Dennis also introduced debrief sessions after every presentation at this years international, these sessions were particularly useful for embedding the information received from each of the instructors.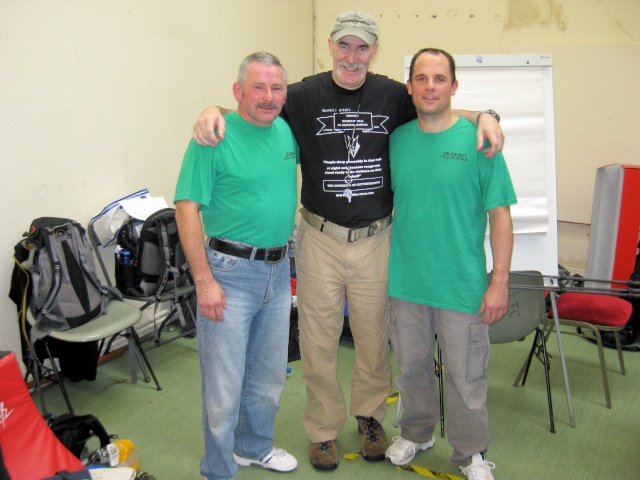 Alan and Stuart with Dennis
Dave McCutcheon – Denis McGee
Strangulation.
After a short break we moved on with this excellent presentation on strangulation, beginning with the history of it's use by different peoples throughout the ages, going as far back as the Egyptians who would strangle opponents unconscious and then knife them through the back, the Jews also used strangulation as a punishment for criminals. Another form of strangulation "the garrotte" was used as a method of execution in Spain as recently as 1974.
Dave acted as the main spokesman for this presentation while Den added the hands on practical demonstrations, usually on Steve (a willing victim).
With safe training practise in mind Dave was keen to point out that there is no evidence to suggest that any muscle groups can be strengthened to help you resist a choke, and repeatedly allowing yourself to be choked out can only be damaging, he then made sure that everyone was familiar with the tap system.
Den brought along some large foam rollers that strangles could be practised on by anyone who was not comfortable practising on another person.
This was the first practical session of the weekend and it was good to get some hands on, I always make a point of taking something from each presentation and this was no different with Den helping us with some of the finer points of a straight forward strangle, some minor adjustments that reaped major rewards.
Tony – Ian
The flow state.
Tony and Ian began this fascinating presentation with a simple solo knife drill which then became a partner drill for which we could give ourselves a mark from 1 -10.
Ian then dropped into a Derren Brown role to help each of us find our One Point and become centred allowing us to relax and almost eliminate outside influence, this allowed us to concentrate or focus on the knife drill, when we returned to physically doing the drill everyone present reported an improvement in performance.
The drill for being aware of danger and then moving onto greeting and old friend was indeed an excellent example of changing state.
Simon
Anti-grappling.
Next up was Simon who you can always rely on to come up with a good physical session and this one did not disappoint.
The focus here was on the growth in popularity of mixed martial arts training, with increasing numbers of undesirables copying (modelling) their UFC heroes and getting down the gym we are far more likely today to find ourselves facing a trained attacker.
The ground is the last place that we want to be in a street fight, Si's drills are what we used to cal "Sutemi waza" the object being to commit yourself to the technique and going to the floor under your own terms in order to regain your feet as soon as possible.
[Giles does a superb takedown on James]
Den, then rounded the first day off with an arduous punch-out drill, followed by an end of day debrief session.
Saturday evening is traditionally the course dinner where we all head into Liverpool for a Chinese meal, this is a good chance to chat with some of your new friends and get to know one another on a social footing.
Day two (Sun 6th sept 09)
Phil
Surviving extremis
Day two began with a superb and well researched power point by Phil W – titled "Surviving Extremis", of course the first survival technique that we all acquire is run away.
Phil's presentation touched on some of our worst ever terror attacks such as the 2008 Mumbai shooting and bombing attacks and the attack on the World Trade Centre in 2001.
Looking at how we behave in these extreme situations and examining the way in which some exceptional individuals not only survived but were able to help others to safety by staying calm and in some cases doing very simple things such as locking doors lead us on to The Survival Arc.
One of the first things that Phil touched on in the survival arc was:-
Denial – the thought process just refuses to accept that tragedy is happening to you'
This
Normacly bias leads you to fixate on the event instead of taking appropriate action.
He also described how a simple preparation such as reading the safety card on an aeroplane can lead to decisive life saving action.
He also introduced a rather salient drill for evacuating a room with and without consequence, needless to say where consequence was added the door became a bottle neck which in more dire circumstances would certainly have lead to serious injury and possible fatality.
The decisive moment at this point he was looking at :-
Panic
Physics
And Paralysis
Panic and hysteria often lead to people being crushed in a rush of bodies trying to escape the scene of disaster.
Physics takes us back to the evacuation drill, too many people trying to to access too small an opening, too quickly.
Paralysis due to fear or mental shut down often leads to someone putting either themselves or others in danger by their refusal to act.
The presentation finished with a look at what we can do to illicit better outcomes, I can't say anything better than the three words that Phil had on screen.
Prepare, Educate, Understand.
Ola
Knife.
Ola who travels from Norway and has become a regular at Den's seminars was next to take the stage and lead us through some knife work.
The session began with accessing your weapon, this is an area often overlooked in knife training but is an essential component of any good knife programme, importance was placed on weapon placement and the need for continuity, if the knife is always carried in the same position and trained from this position it will be far easier to access and deploy should a situation require it.
Ola also looked at the choice of knife, on the market today there is a wide range of fixed blade and folding knives, it is important that you use a knife that suits you and is fit for purpose, in the UK we must also consider the legal aspect of carrying a knife.
During the session we were encouraged to use our other striking tools to help bring the weapon into play as during an attack we may have to fend off or counter as we access our knife.
A nice tip from Ola was to keep the heel of the rear foot up to save you tripping over if you are moving backward.
Paddy
Foundation fitness.
Next up we were treated to a foundation fitness session by Paddy Phillips, Paddy in spite of having computer problems gave a great presentation, taking us through a series of exercises to improve flexibility, beginning at the ankles and working up through the body.
Paddy took time to get around the whole group helping out and offering advice wherever asked, he would bring out anyone with a particular problem and demonstrate how they could make improvements, the difference that Paddy made to peoples range of motion in a few short minutes was quite staggering.
Alas Paddy's session was cut short due to time constraints.
Larry
Fitness equipment.
Also a victim of the time was Larry's fitness equipment session, one thing that he did have time to show us was his Indian clubs that he had made from steel as opposed to the usual wooden ones that you can buy, Larry has a good range of exercises for working lots of different muscle groups not only with the Indian clubs but also medicine balls and sand bags.
I have seen Larry demonstrate on various occasions and would recommend anyone to pick his brains on this subject.
Pete and Simon
Scenario.
As usual the international ends with a scenario.
A serious test of fitness designed to push to the edge of physical and mental exhaustion followed by a fight against a padded assailant to finally embed the survive at all cost mindset.
Alan and Stuart with Si and Pete
A very enjoyable couple of days, pity it had to end. After many fond farewells the long journey home, during which Stuart I would deconstruct each session, sharing opinions and insights and piecing together as much as we could remember from the large cache of information that was presented over the weekend.
Alan Beckett
Edited to add photos by Richie Owens