A decent watch is a useful piece of personal equipment. While not a critical item many of use appreciate a rugged, practical timepiece. I thought I would discuss my experience with watches, as it reflects the activities I was involved in at the time.
My first watch was given to me as a birthday present in my teen years. I can't remember much about it, other than it told the time fairly accurately, until I broke it by over-winding.
I was given a rather nice diver's type watch by a girlfriend when I was twenty. Although it wasn't a serious underwater watch I really liked the two-tone "Pepsi" rotating bezel, and the sturdy rubber strap. I wore this daily until it was stolen. I had set up a dojo in the community centre at Broadway, Norris Green, Liverpool, for Gary Spiers to teach Goju karate. While we were training some local scallies sneaked into the changing room and stole cash and valuables, including my watch.
By luck, I found a replacement on the floor of the Top Rank nightclub, after a big kick-off, and wore that for a while. While not a diving watch, it was quite decent, with a quality brown leather strap.
Working and hanging out with Terry O'Neill entailed being his spontaneous sparring partner. He would demonstrate techniques, play-spar, or, just punctuate his talk with those trademark high kicks. Trying to block them was futile, and usually resulted in my watch flying off to land some yards away. It's a credit to that unknown brand that it took so much abuse and kept on ticking. Those impacts had, however, loosened the retaining pins, so that the slightest knock would dislodge the timepiece from my wrist. When I arrived in Japan in April 1973, while moving in to new apartment I banged my wrist on the staircase, and the watch dropped into a gap between stair and wall, never to be seen again. So, for the six months I was in Japan I never had a watch, until I was given a Seiko by Arthur Tansley as a leaving present. This Seiko was the first of many, as I really rate this Japanese brand.
[Wearing my Seiko present, in Bulawayo 1976]
FIREARMS TRAINING
Returning from Japan I almost immediately became involved in VIP Protection, and this led me into firearms and training. Tactical shooting requires a blend of speed and accuracy, and, to quantify this we need some items of kit. A stopwatch was essential for gauging speed, and an electronic calculator was convenient for tabling scores. Casio brought out a range of digital wristwatches with various functions built in. I found the models with stopwatch and calculator a convenient way of cutting down on range kit, and so, wore one for several years.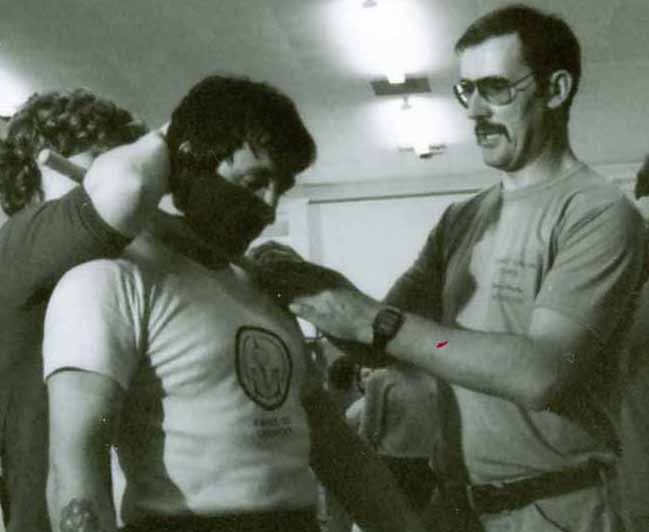 "WINNING YOUR ROLEX"
As I progressed in the field of VIP Close-protection I was working for Royal and Diplomatic entities. After one such contract I was delighted to be presented with a terrific gift of a Rolex. Back then such gifts were quite usual if the principal was happy with the team. Expensive gifts were also forthcoming on the birth of a son, or, if a favourite racehorse had won a big race. My particular Rolex is the GMT Master, totally waterproof, with my favourite "Pepsi" bezel, and stainless steel case and band.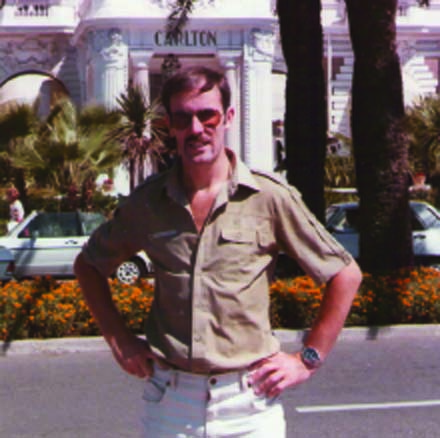 [On a bodyguard contract in the South of France, wearing my GMT Master]
After a while I decided that routinely wearing such an expensive watch while engaged in bodyguard operations or training, was a bit foolish, so bought a watch for daily wear, while retiring the Rolex to my safe.
[My Rolex with a Hideaway knife]
Billy Jones, one of my top karate guys, who later became a
Mr Universe
winning bodybuilder, worked as a commercial diver. He told me that, although all the guys owned Rolexes, they generally wore a Seiko while actually working. Following his advice I bought myself a Seiko 7N36, which as you can see, is the classic diver's model, with rotating bezel and rubber strap.
[Wearing my Seiko diver's in Tamboers Kloof, Cape Town]
That Seiko has decorated my wrist while working and training on four continents. Being a quartz action it's very accurate [more so than the Rolex] and rugged. Rubber straps eventually degrade and crack, needing replacement. After replacing several rubber straps I found the webbing Waterborne strap, which has double security fastening, so that if the watch is pulled from the wrist it still remains connected to the strap. This has saved me from losing the watch on several occasions during confrontations on the door.
[My Seiko on a Waterborne strap]
Much as I liked that Seiko, time began to take it's toll on that timepiece, and the day/date function became difficult to adjust. So in Dubai I treated myself to a Casio "Sea Pathfinder", a digital model, loaded with functions, including alarms, backlight, stopwatch and compass.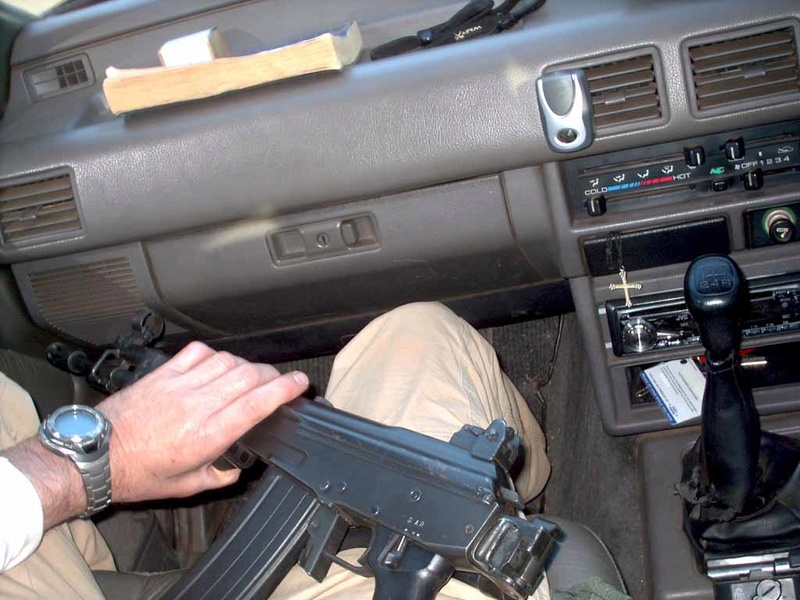 Wearing my Sea Pathfinder on ops]
I still wear my original Seiko Diver's for work, and still liking the design bought a Seiko SHC063 "Sawtooth", from Ebay. This is known as a "monster" diving watch. At present it still has the original rubber strap, but when the inevitable happens and it wears out I'll replace it with a Waterborne.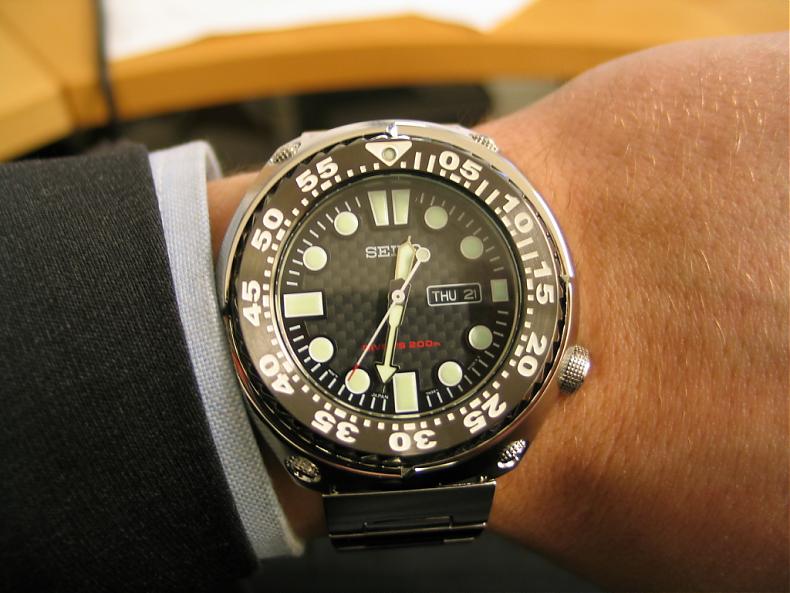 [Seiko sawtooth monster diver's watch]
Seiko update: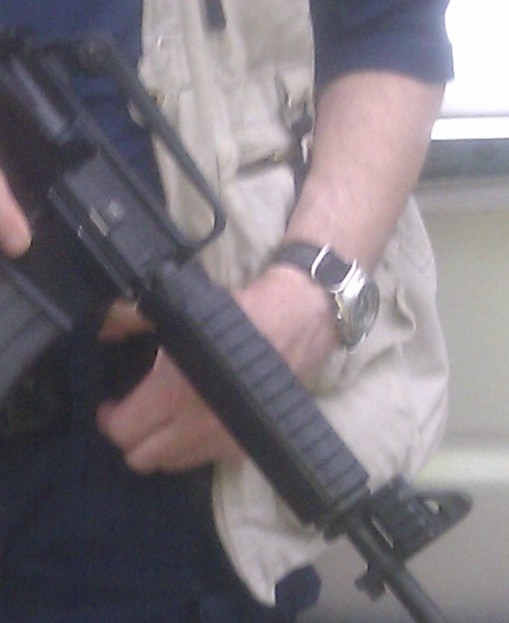 [Now with Waterborne divers strap.]
By the way, many of our combatives guys in Switzerland wear their Rolex Submariners on their right wrists. This is something they picked up in the army. When required to suddenly drop for pushups, the winder doesn't dig into the wrist when worn on the right.
NIGHT VISIBILITY
Both of my Seiko watches have luminous markers on hands on face. The Casio has a backlight, operated by a button, to illuminate the display in low light situations. After hearing a lot about the Traser system, in which tiny vials of radio-active gas are embedded into the hands and numerals, I decided to purchase a NITE MX20 to try the system for myself.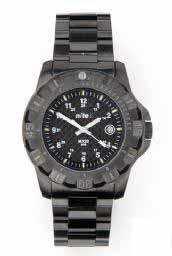 To be frank, although it works well, the display on my Seiko Sawtooth is brighter in the dark. For those with tactical requirements, where light must be controlled to avoid give-aways, I'd recommend the Casio. The light is there when you needed and not before.
In Rhodesia I bought a leather cover for my watch, which afforded both protection and covered any reflections from the face.
[I'm using a leather cover on my watch in Rhodesia, 1979]
Looking back I've had good luck and bad luck with my watches. Bad luck to have tried to block Terry's kicks while wearing them. Bad luck to have had a couple stolen. Good luck to have been given so many as gifts.
COPYRIGHT 2015: © D. MARTIN