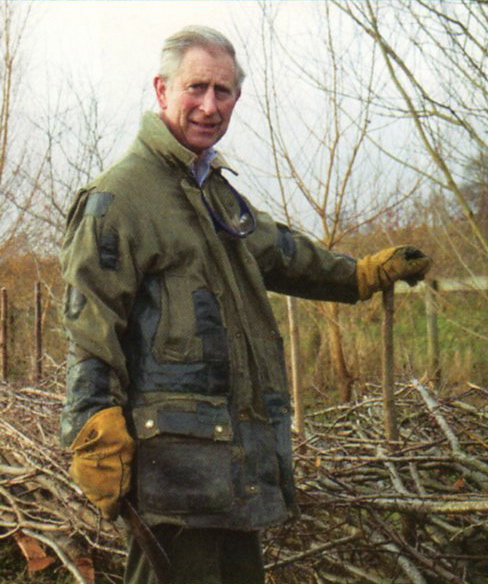 THE BARBOUR COAT IN VIP PROTECTION
by
DENNIS MARTIN
[/center]
When I started on BG teams my normal cold weather topcoat would be a leather or sheepskin coat. They did fine for the environments we we in, which was usually mostly inside hotels, offices and vehicles, with only short times outside in winter.
[Miss World contestants visit Parliament. Den with leather coat]
It was in 1985 that I was on a long-term job, looking after a member of a Royal family who, despite having several luxury premises around London, spent host of his time in the Savoy Hotel. However, he did like to visit his various properties, and one night we took him to a detached house, and the team rotated around various static positions while he was onsite. So I found myself suited and booted and standing in wet grass in the winter rain.That job had us work a week of days, a week of nights, and a week's leave, so upon my next leave period back in Liverpool I went to see Brian Molyneaux who ran the Ellis Brigham outdoors shop. Brian, who was a noted climber was very knowledgeable about kit, and pointed me to a very warm, duvee jacket. Regarding the best footwear, Brian told me that wet grass was the worst thing for leather, so he suggested rubber overshoes, which I bought, and used to keep in the backup car for the rest of that contract. By the way, we never revisited that property!
[Den with his mountain coat, outside the team residence]
What that photo doesn't show, is that the coat is a bright shade of blue, with a vivid orange lining, great for mountain rescue, but a bit obtrusive in five-star hotels. So I sought something more suited to task.
A colleague who had been a military bodyguard advised me of the advantages of the Barbour, the classic waxed-cotton jacket. It is waterproof, reaonably warm, and is acceptable on the grouse moor or the Dorchester Hotel...... in fact, the Barbour has the Royal seal of approval: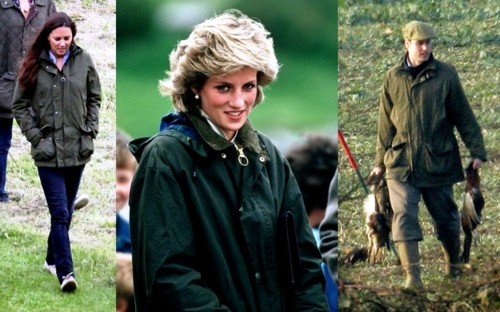 I went along to what is now the John Lewis store, and browsed their array of Barbours, eventually settling on the
Beaufort
[The Barbour Beaufort discreetly covers the MP5K and the SIG 228]
Since then, that Barbour was my choice for numerous bodyguard operational and training tasks.
[Bodyguard training]
The Barbour is extremely well made, with a very sturdy brass zipper. Lined handwarmer pockets are a welcome feature on cold ranges, although hands in pockets are a no-no on operational tasks.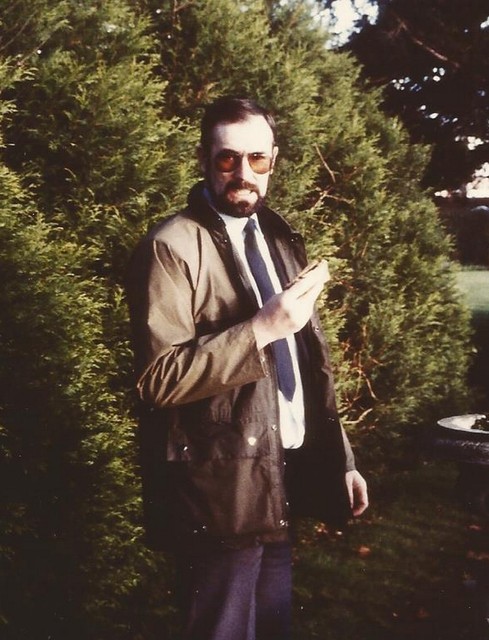 [Den at a Royal residence. That quick sandwich was, in fact, my Christmas dinner! Ah, the glamour of bodyguarding]
Despite being well made, after years of service the jacket began showing signs of wear. This in itself isn't a bad thing, because many wearers, including Royalty, are proud of the wear and tear. However, I was on the point of investing in a new jacket, when a chap in the gunshop advised me that he could sent my coat away for reconditioning. After a couple of weeks I was delighted to receive my Beaufort which had been re-proofed, the cuffs edged in leather, all ters mended, and even the lapel badge had been replaced.
[On range with a military CP team, training with the MP5K briefcase system]
For anyone entering the field of VIP Protection I'd highly recommend buying a Barbour.