Les, a graduate of  our Tactical Folding Knife (TFK) course , is entering an upmarket suburban  shopping mall. He was pre-occupied in getting the shopping list out of his pocket and looking down when he bumped into a guy. Although Les apologised the guy turned and palm-thrust him in the face, knocking him right back into a bench (which prevented Les falling). The assailant, a "gorilla", about 6' 6" tall and 19 stone heavy,, rushed in shouting, right arm cocked to strike again, left arm reaching to grab. Les accessed his TFK and slashed the reaching arm. The guy froze, and screamed as his blood spurted up over nearby cinema posters. Les was ready with a follow-up slash, but one cut was all it took.  Security staff arrived and seeing one man  with a knife and the other guy bleeding, arrested the "gorilla!"  Shop staff then laid charges against the guy, who had been extorting money and molesting waitresses.
The knife used was a Spyderco CIVILIAN
Many of carry knives as tools for everyday utility, but there is a definite case for carrying an edged weapon. Violent confrontation is usually unpredicted... because if we could predict it we'd avoid it! A Tactical Folding Knife can give you the "winning edge" in such situations. In this article we will be looking at some designs offered specifically for self protection.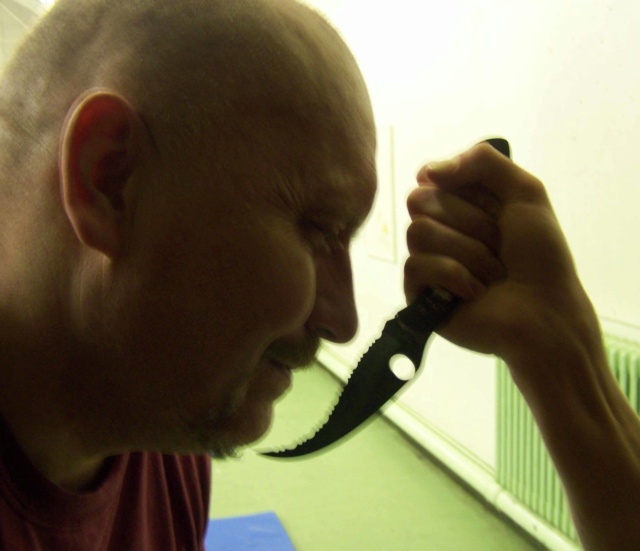 In the above case, Les was carrying a Glock loaded with high-speed hollowpoints. He assessed that  the Civilian was more appropriate because it is easier to limit the damage with a knife than a handgun. Shooting  an unarmed assailant, no matter how massive, inevitably leads to legal problems. Finally, gunfire in a crowded, ricochet-prone  environment is to be avoided if possible. This is not a Knife versus Gun argument. We recommend both. It's all about force options.
HAWKSBILL BLADE
I wrote an article for SWAT Magazine entitled  The Secret Spyderco which covered the Civilian model in detail. The Civilian is the epitome of the Hawksbill design, with a radically recurved blade. Sal Glesser, Spyderco CEO designed this model against a specific requirement from the Drug Enforcement Administration (DEA) against the  following conditions:
1] No firearm, to project cover identity
2] Personnel untrained in knife combatives.
3] Need to escape from situation (operator "blown" or, drug "rip-off")
The Civilian design allows this:
1] Definitely not a law-enforcement signature weapon!
2] The complex-curve makes up for lack of sophistication in training:-
a] Used passively, just covering up, or, shielding, the aggressive limb will meet the blade, and will be on a curve whichever the direction of force. "Curves equal cutting". The limb will "cut itself" as it attacks.
b] Used actively, to "defang", that complex curve conforms to the human arm, again massive trauma with little skill.
[A radical design requires dedicated trainers to fully acquire the technique possibilities]
It is important to remember that Mr Glesser designed the Civilian as a weapon right from the start. The Civilian is, in fact  the only knife classed by Spyderco as a "weapon", all other models are marketed as  "tools". Despite this we still hear complaints that the Civilian is unsuitable for opening cans, carving wood, digging up roots etc. It is what it is. It's a weapon not a screwdriver, pry-bar, or, chisel. Carry it as a weapon and use it only for protective purposes and it will work fine. I've never heard of a Civilian being damaged on a human target. Carry a Leatherman, Swiss Army, or, the new SpyderWrench for utility tasks.

THE MATRIARCH
Spyderco are actually marketing another model as a weapon, but as it is really a version of the Civilian the above statement is still true. This new knife is called the Matriarch, after the great she-Elephant that protects the herd. The concept of a compact model is well established in  firearms use, for example the Glock 17 was cut down to the G19, which in turn was further reduced to the G26. It's an elegant idea- you can carry full size or compact, whatever fits your lifestyle ...again, it's all about options.
The Matriarch has a bit shorter blade, and a bit shorter grip, and is a bit lighter than the Civilian. It's about half the price, which is nice.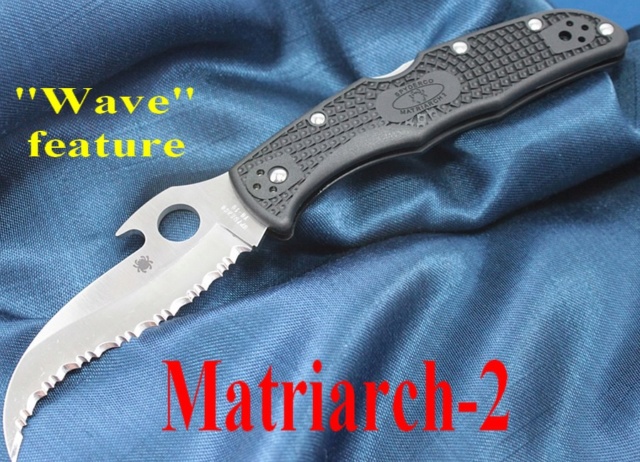 [More recent version of the Matriarch, with "Wave" opener]
Surprisingly, Spyderco have made the Matriarch "tip-up" carry, rather than the "tip-down" already used in the Civilian. The clip can be repositioned for left-hand access. Grip material is Zytel, which does the job fine.
The blade locks with the proven "front-lock" system, however, beware when closing as the blade drops very quickly. That serrated edge is super-sharp, and will damage with just the force of gravity behind it.  A secretary in one importers had her finger taken to the bone by the closing blade. I sent a Martriarch to a friend and specifically warned him of this, but still he has been "bitten" three times!
Overall I like the new knife, and if I didn't already own a Civilian then a Matriarch would be my main choice. As it is, it would be a good backup weapon, for left-hand access. I'm a bit concerned about the "tip-up" carry. Although either system works fine, mixing them is a recipe for disaster. In training you should stick to one style and become proficient in rapid-access.
IMITATION
Of course there are numerous other types of curved-blade knives, but one company, Cold Steel, offers a direct copy of the Civilian. This seems surprising because their CEO is on record dismissing the curved-blade concept!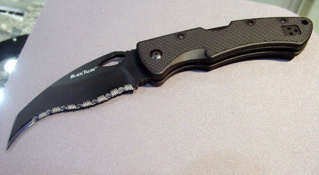 Cold Steel Talon- "imitation is the flattest form of sincerity"]
Simon, a computer engineer gets in lift carrying two briefcases. He crouches slightly to put them down in corner, and is shoulder charged into corner by two knife-wielding robbers, who demand his wallet. He can't see and his arms are pinned. He manages to access his folding knife, and "cuts loose," slashing the grabbing arm; then blindly slashes back, getting number two across the face. The fight is on! He continues "slicing & dicing " until both are down.
Asked afterwards what was the most difficult part Simon replied  "keeping my balance with all the blood on the floor... I kept slipping and had to grab the rail as I slashed".
The knife used was a Spyderco Harpy.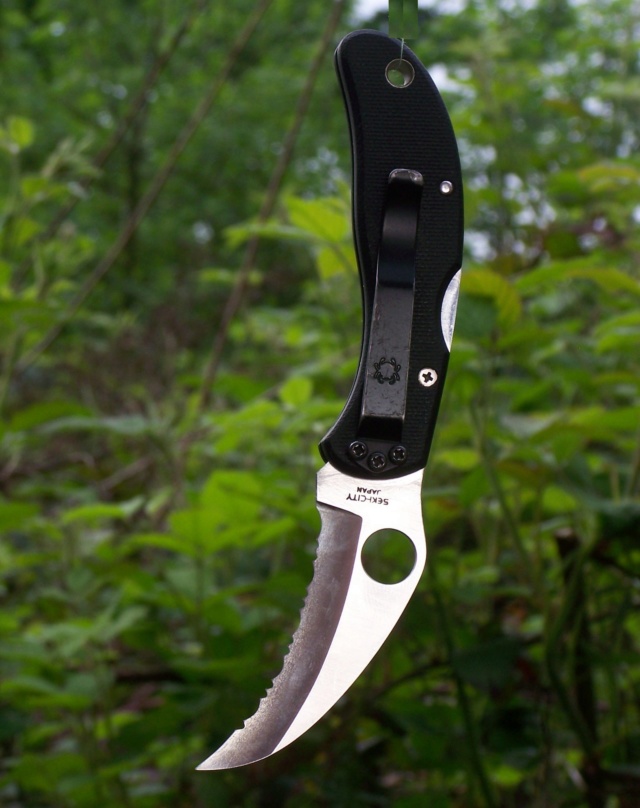 [Harpy]
FEMALE FAVOURITE
Even the compact Matriarch would be too big for some users. An earlier design, the Harpy may fit the bill. Recently, a US distributor offered the G10 version Harpy at a knockdown price and I snapped one up. It has quickly become a favourite.
At CQB Services we train many female operators, and the Harpy seems ideal for them. Lightweight and short it fits the average female hand. World ranked instructor Graciellas Casillas, has made the point that the female fears being disarmed. A short, hawksbill knife presents nothing for an assailant to grasp for leverage... it's all blade. Now Graciellas prefers her own LADYHAWK design, but the concept applies well to the Harpy.
[Ladyhawk]
The hawksbill design is ideal for anti-grappling, where you may need to insert the blade between your body/ limbs and the attackers. This is especially critical in ground defence, which female self-protection must emphasise. The Harpy comes with another Spyderco innovation, the serrations. These "capture" and control the attacking limb, again important for females who may lack the strength to do this unarmed.
A final advantage of the Spyderco   is the trademark  thumb-hole because it is more friendly to long nails than the disc or stud offered by other firms. Remember, you must practise presentation and access and how many women will sacrifice their elegant nails to do this?
In the bestselling novel "Hannibal" the arch-villain uses a Harpy to kill his pursuers in Florence, and then, at a US gun/knife show, buys a Civilian.

Despite being a pyschopathic killer, Lecter is characterized as having excellent taste in all things, and with his choice of blades, I can concur.
EXTREME USE
Clipping a TFK to your pocket or waistband is fine for most urban applications. However, there are situations involving physical activity and exertion, such as SWAT raids, white-water rafting, airborne operations, that tax the security of the clip. I lost  my CQC-7 during helicopter operations with the Internal Stability Unit. Fortunately, the stick-member behind me found it and gave it back. A friend on the British Military Close Protection Team wasn't so lucky. He lost his Spyderco Wayne Goddard during heli-ops, and it was never seen again. Sure, you can increase security if you bury the knife beneath layers of clothing, or, clip it into a flap pocket, but these measures compromise the fast access which is the reason we carry a TFK. Mike Sastre, a keen white-water sportsman has come up with a solution. He devised a neck sheath for the Harpy, which offers total security, together with fast access and presentation.
[Sastre designed sheath for Harpy]
The neck sheath carries the folded knife, either under clothing for discretion, or overtly in rural/sporting situations. You reach up and pinch thumb/forefinger through the thumb-hole, tug downwards, and as the knife comes free snap the blade open in the popular "spydie-drop" action. Very fast and positive. The Kydex sheath is moulded precisely for a good friction fit. The knife will never be lost from this sheath.
Mike now makes his sheaths for most popular TFKs, and also offers them in Concealex, a carbon fibre even better for sheaths than Kydex.
[Size comparison, top to bottom; Civilian, Matriarch, Harpy]
CRTK BEAR CLAW
A few years back a knife appeared which combines some of the elements discussed above. The BEAR CLAW is a Hawksbill   which comes in a neck sheath. Unlike the knives discussed so far the Bear Claw is a fixed blade. I picked one up while overseas in November 1999, and have found it to be a useful little addition to my armoury.
Columbia River Knife & Tool company (CRKT) has gained a reputation for good, functional designs at a reasonable price. Their earlier neck knife, the STIFF-KISS is a favourite of mine. However, I reluctantly replaced it with the new Bear Claw.
The claw comes in two versions. What we might call the "protection" model has a plain edge, with a sharp hooked point. On the other hand, the "rescue" model has a short section of serrated edge, with no point... in fact the tip has a stud to completely blunt it. This knife is a tool, for rescue situations, such as cutting seat belts, or, clothing. Hopefully, a future claw with have a fully serrated edge and a sharp tip. I prefer serrations on a protection knife, as we will often have to cut through various covering garments, and, in my opinion, serrations rip through better than a plain edge.
A main feature of the Bear Claw is the finger hole grip, reminiscent of the South-East Asian Kerambit "tiger-claw" knives. This feature makes for an especially secure grip, and turns this knife into an extension of the hand. This increases the retention factor, and makes this knife particularly suited to women.
As with the
Stiff Kiss
the supplied sheath is, in fact, an entire carry system. There are a dozen ways to secure this sheath to your body, clothing, or vehicle. It is, actually, an interesting tactical exercise to think up new applications. The sheath comes equipped with belt slots, a pocket clip (which can be affixed in two ways) and a paracord necklace. This is the only feature is disagree with. When I bought my Stiff Kiss Les, featured in the case history above, very kindly wrapped the handle for me with paracord, but advised me to use jewellery chain for the necklace. While in the military Les had been in an altercation in a bar which resulted in him being swung around right off his feet by his dogtags on  nylon paracord. He was choked to the point of dizziness before his mates could intervene. Paracord is rated to take over 1000 kilos... don't risk your neck.
The steel used in the claw is AUS-6M, not the best choice around. However, you get what you pay for, and it is OK for a last ditch "cut & run" weapon, which is all this weapon is about.
The Bear Claw and the Harpy with sheath fulfil a similar tactical niche. If cost is your main consideration, then the CRKT product wins hands down. If versatility is a factor then the Harpy will appeal more. Remember, in some jurisdictions fixed blade knives are illegal, so that could be the deciding factor.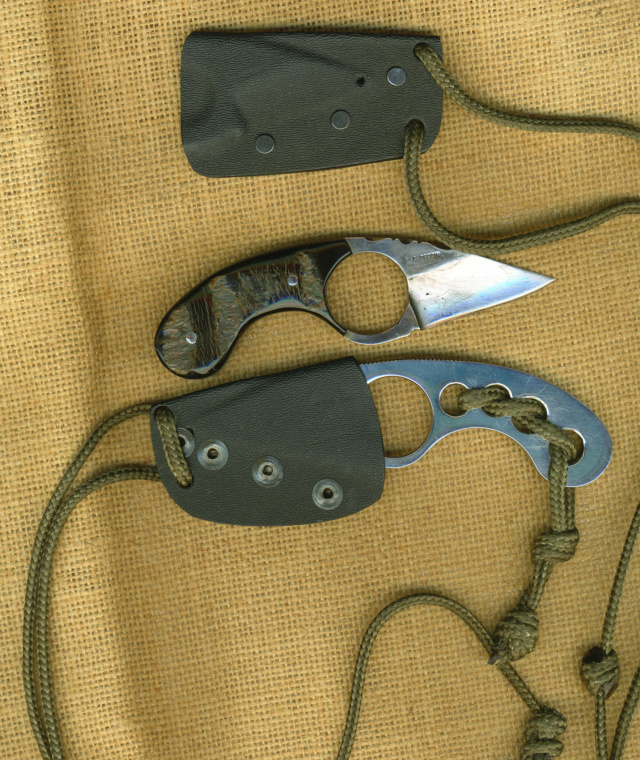 Fred Perrin has his La Griffe, which is a very upmarket design, on the same principles as the Bear Claw. A very nice item indeed.
FAIRBAIRN
It is obvious from this, and my previous article, that I like the hawksbill blade on a fighting knife. I was therefore delighted to learn that W.E. Fairbairn, "the father of CQB" used the recurve blade in his final knife design, the massive, awesome Cobra. Versions have been produced in both the USA and UK.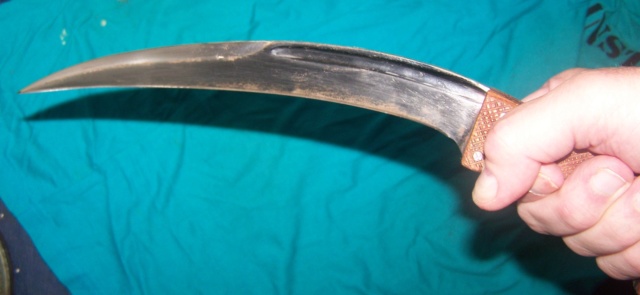 The model pictured was reviewed by me
here
RIPPER
This fearsome fixed-blade was designed by forum member Rod...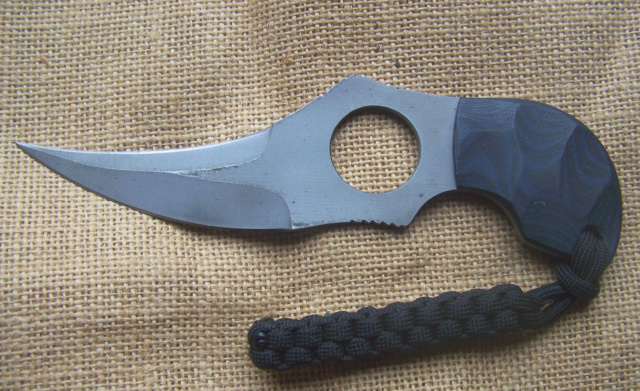 HIDEAWAY OPTION
It's no secret that I'm a fan of the Hideaway Knife [HAK]. There is a curved blade version, called, appropriately, The Claw.  It's a good design, but, in my opinion, the curve does not make that much difference in sub-compact designs; and I tend to prefer the original straight model.
[HAK Claw kit]
Before we finish let's add a perspective. Tactical equipment is just a small part of our overall protective scheme.  Just carrying a weapon does not guarantee safety. As my good friend Warren Buttler, an instructor at the  Federal Law Enforcement Training Centre, says "You must be an active participant in your own rescue".  Les is first to admit that the confrontation happened largely because of a lack of situational awareness .He frankly wasn't prepared for a violent confrontation in an up-market mall on an afternoon. His ability to respond while being "caught on the back foot" is due to his  background as a soldier in two Special Forces units during extensive counter-terrorist operations.