Nick's review continues...

SUNDAY PROGRAM
Day two started for me with a nice tasting English breakfast that hopefully would keep my energy levels up during the intensive day.
DRUG WARS

The day kicked off with a superbly presented and very informative module on Chemical Combat by Slackbladder. It wasn't about teargas, mustard gas or worse but about the influence of stimulants like PCP, heroin, etc…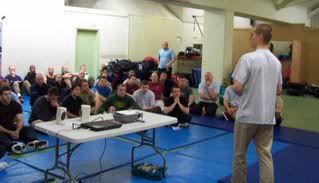 As a lot of crimes these days are about drugs and are committed by people under influence it's vital to know what we are dealing with. To quote Sun Tsu: "Know your enemy and know yourself."
INTERVENTION
After this presentation the physical part of the day started with a module by James Fatwing and Phil W. on third party intervention. This is for situations when for example the girlfriend is harassed or when a friend is attacked in a pub.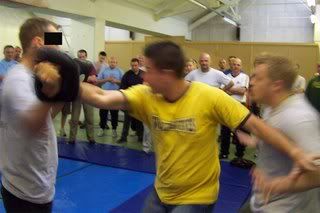 [James intervenes to protect "girlfriend" Si from the unwanted advances of Phil]
As we didn't have a real warm-up we started of lightly, intervening and protecting the third party with our body where after we hit the pads. We practised various scenarios like when the third party suddenly regains his/her courage and wants his share of the cake by attacking the assailant.
The intensity went up when we were shown how to carry an unconscious person by Mr. Steel from Norway and James and Phil.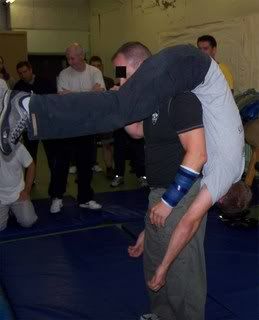 The drill following this involved as you might guess carrying someone towards safety.
SCANNING
This was followed by a module on VISUAL SCANNING DRILLS; by Al Beckett.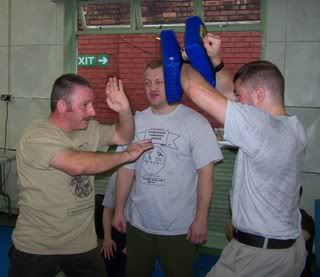 [Al demonstrates a drill]
As confrontations are unpredictable we need to keep control of our surroundings in case we are blindsided by an accomplice of the opponent or during a bar fight some drunk thinks it's cool to join the dance.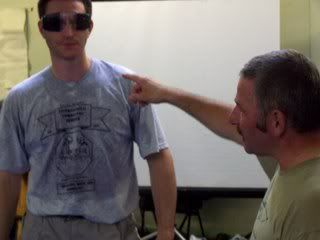 [Al introduces his vision-impairment goggles]
We were guided through various drills to learn to use eyes and ears to detect the danger and react to it.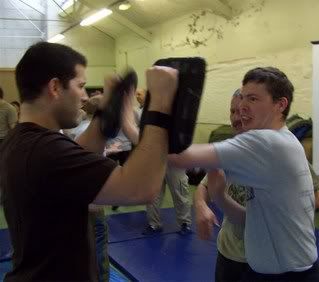 [Nicks shows good aggression during this phase, as Al coaches and Jamie holds the pads]
Unfortunately our good friend Slackbladder accidentally dislocated his elbow, and needed medical assistance.
THE STRONG SHALL PREVAIL
While two nice looking nurses were looking after Slacky we ate our lunch during HIGH-INTENSITY TRAINING by Ian Davies & Tony Da Costa. They presented the results of a very specific intensive but short weight training regimen, which has produced measurable results. The module was very informative and I admired their practice what you preach approach.
Ian presses the weights as Tony explains the principles]

After this presentation we had the opportunity to sweat again during the hands-on phase with another
Liverpool Gutterfighter
Larry Blundell.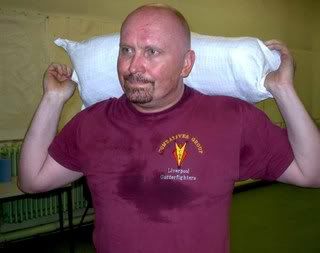 [Larry here shows an exercise with the heavy Sandbag]
Larry, a big fan of kettlebell training gave a short explanation about history and use of the kettlebell where after which we could have a try. Many of the class had never picked up a kettlebell before, and several expressed interest in adding this device to their training.
At the Liverpool Gutterfighters they use many items of strength equipment which are easy to obtain, such as Sandbags.
Den also showed the Ch'ishi, an Okinawa n weight to strengthen wrists, grip and arms. Keeping the stress scenario in mind I tried to conserve my energy.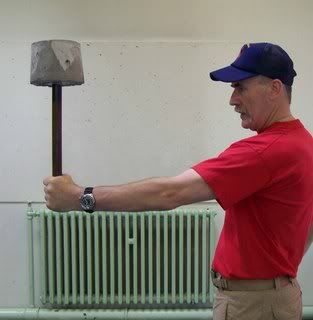 [Den demonstrates the Ch'ishi "strength stone"]
KEEPING TRACK
Another great module about SENSORY OVERLOAD & MEMORY DRILLS; was presented by Patrick Ryan.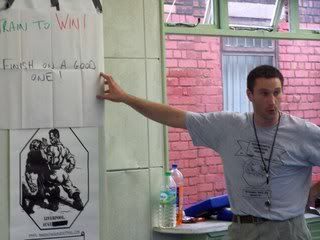 The drill consisted out of a physical stressor where after we received some information to memorize. After taking the information in we were subjected to pain followed with a session against the pads where after we had to answer some questions about the given information. The drill was concluded by one more round against the pads after which we had to smile to the safetyman. For this drill we needed everything we learned in the past two days, aggression, switching on/off and scanning.
In between two modules a little ceremony was held in which the Gutterfighters presented Den with a SOG Bowie knife for the 10th anniversary of the Liverpool Gutterfighters Combatives Group.
HIGH STRESS
Last but not least for today was the stress-scenario. This involved everything we had learned throughout the day against either Si Squires, or John Pardue, in the latest generation of their padded suit.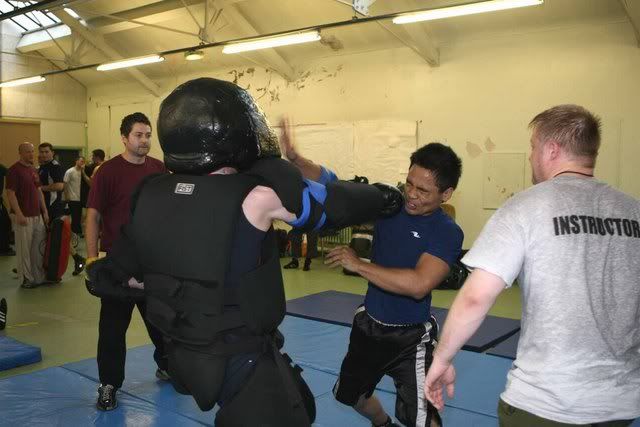 [Mark drives in with a Tiger's Claw against the punches from the suited aggressor. Photo by Richie]
While waiting in the corridor for my turn I tried to comfort some first-timers.
When it was my turn to go I gave 100%. Before the drill we were told that the new suit was tougher to defeat and we would only get 10 seconds before the whistle would be blown. It's hard to believe for myself that I managed to get the black smurf on his knees in time. After regaining my breath I was congratulated and enjoyed the fights of the other people having their go. All performed very well. Well done.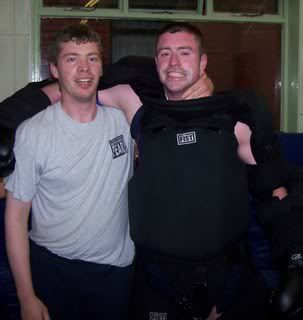 [Nick after confronting John Pardoe in the suit.]

Especially watching the women perform was a joy for the eye. The Amazon warriors and the Valkyries would be proud of them.
After saying goodbye to the people who had to go back to work next day I got a ride back to the hotel. To my surprise our friend Slacky was sitting in the pub telling jokes while enjoying a big pint of Guinness. After a couple of drinks we decided to head into town for a Chinese meal. The ride was very interesting as we did lots of sight- seeing as we got lost.
The ride back went smoother thanks to Richie's Tom-Tom-Go.
The day was concluded over a cup of tea by master brewer Alan.
This ended the second day of this great seminar.
BONUS SESSION
Day 3 [Monday morning] started again with a nice British breakfast. All the guys who were still in town limped down to the centre for the last lap.. When training started that day I realized I really needed the energy. Den handled all the training on this final extra session. The warm-up consisted out of Den's "Reactive Training, a mixture of aerobic and anaerobic exercises.
After the warm-up Den showed us the 360 degrees reactive training drill which involves no-go targets resembling innocent bystanders.
Next came a module on ground situations which involved restricted striking.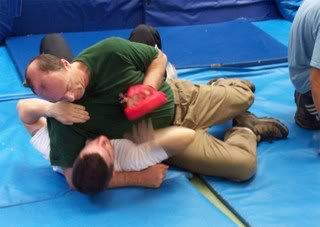 [Big Dave Mac during the grounfighting module]

Following this there was a module on knife to hone our accessing a knife in various scenarios.
We also discussed some kit like knives and torches as well as a police-medic's vest and its kit.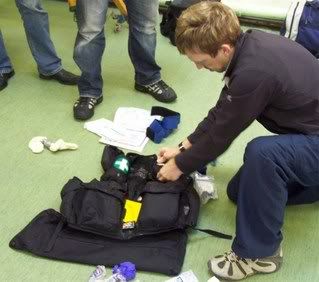 [Richie shows specialised medic kit]

The training was concluded with a state modulation scenario. It involved a confrontation in which we had to intervene for a third party where after we had to change state to call in help or apply first aid. It was hard and confusing but a great learning experience.
This concluded the last day of this great seminar. Everybody said each other goodbye where after we went on our ways home. Ground transport to the airport was arranged thanks to Peter from Manchester. Without his help I would probably still be in Prescot Liverpool.
During the ride to the airport we discussed the last days and the fact that the attendees and organisers of this event are such a great bunch of quality people to share a weekend with.
Hereby I want to say a big 'thank you' and 'well done' to the organisers.
It was a great weekend with superb presentations, great people to train with, to eat with, to talk to and to have as a travel companions. Thank you all very much.
-----------
Review by Nick Engelen.
Photos by Den
--------------
The full AAR, with more photos and comments can be read
here