Here's a review of the seminar from Lynx, who flew in from Sweden...
From Lynx

Review of Combatives seminar with Dennis Martin, in Lilleström, Norway, 2nd – 4th of June 2007.
Friday 1st of June
I arrived to Gardemoen Airport, Oslo Norway on Friday morning. Meeting me at the airport was Ronny, who gave me a ride to the hotel to get checked in and then I was invited to join him and Jo-Inge on a shopping trip in Oslo. Which I did – and we had some very interesting conversations meanwhile in the car and during lunch, and quite many good laughs. I felt at home straight away with these kind guys, and their interest in Combatives and down to earth attitude made for a most enjoyable afternoon in Oslo.
After a few hours they drove me back to the hotel, I settled in, got some sleep and awaited the arrival of the Brits in the evening. Dennis and Slackbladder were also picked up at the airport and after they had got settled in we went out to have dinner at a local Chinese restaurant, together with a large part of the seminar attendees.
It was a pleasant evening with good company. I couldn't wait for next day.
Saturday 2nd of JuneHard skills program
Dennis presented his hard skills program, starting up with a PowerPoint presentation and then it was "hands on" for the rest of the day. Finally I got some insight into all the different strikes etc. Since the NBI/International 2006 was my first seminar, I've longed for an opportunity to "start from the beginning". Now I got it.
Within a setting of humble attitudes and an open atmosphere, the room was filled with guys and two of us girls, an aura of humility and willingness to learn – Den guided us through the basics of Combatives, understanding it's use and approach to self protection (not self defence), the importance of keeping fit and how the mindset of Combatives is a way of approaching life while enhancing your own innate capabilities such as intuition etc and while developing yourself with the goal of keeping yourself safe. To me, the approach reminded me of the importance of self-love, self respect and the importance of self confidence in life, in training and especially if faced with a conflict. It became clear, that Combatives is an all-inclusive concept – bringing unarmed combat, impact weapons and firearms training together. Den explained why it's necessary to have compatibility in between the different branches to have an easy to use self-protection approach. We covered the confrontational options, Lofty's Vital Pyramid – which Den explained from the base and up. This weekend we focussed highly on skills…
We got a quick briefing on the history of Combatives, which again, I as a novice deeply appreciated as it filled out quite a few blanks… As a quick note: It never seizes to amaze me how much historical knowledge some of you guys have in this field. I admire the way you honour your predecessors and their work while keeping the inheritance alive, cherishing their legacy and continuously attempting to develop the material further.
"Martial art is what you do with someone - Combatives is what you do to someone" Kelly McCann
Dennis continued his presentation by introducing the essential concepts & principles of CQB:
Speed
– technical speed, working speed and speed of reaction
Aggression
– a controlled and disciplined, "cold fury" (term by Marcus Wynne) like a switch on/off when needed.
Surprise
– the ability to turn things around, feign submission, distract, deception
Den then continued to go over the main principles of Fairbairn. By going over this, together with the concepts of CQB services - the picture of what Combatives was starting to become clearer and clearer. Why is it important to learn to throw every strike as if your life depends on it? It's hard work and requires training; both technique wise and with general fitness and Den reminded us of just how important it's to train that way and why. And – it's good to know, that even the best get exhausted after doing a drill that way so no matter what your level is – the effort you're putting into the drill is what matters since you're doing the training for yourself, and everyone get just as exhausted when training like that, regardless of fitness level! When Den explained this and after I've had the pleasure of participating in his wonderful warm ups, it became a good reminder to me of how the gym and ordinary training could do with a bit more explosive stuff to be relevant to the Combatives training – at least to avoid the extensive soreness spreading through my body the next day! (Man was I happy that I've trained as I have lately at the gym though!) lol
The drills of the day included the tiger's claw, elbows, axe hand blows, the chin jab and we also tried a strangle in various ways. I found it very satisfying that although there were some very competent people in the room, Den managed to keep us all happy and asking to make sure that we all had understood the blows and drills.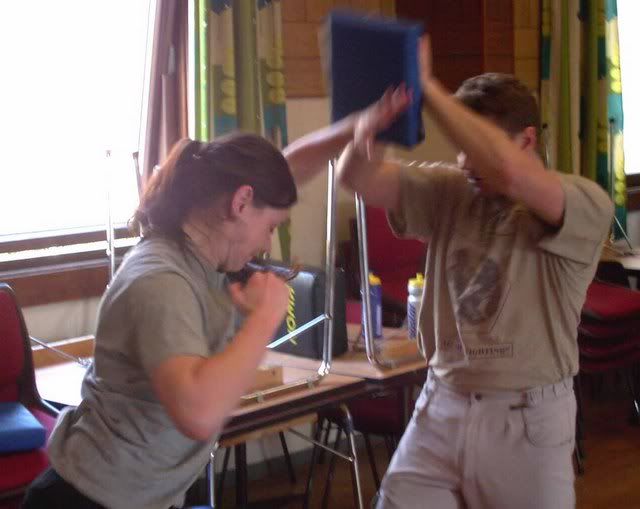 [Silje using forward drive with AxeHands]
One thing I feel I must mention, is the excellent little café and bar across the street from the hotel, in which Den, Slackbladder and I became regulars during our stay. The bartender even remembered my desire to have my fruit tea in a certain pink cup I fell in love with and gave us very good service. In the evening most of the attendees went out to have another Chinese meal, which was most agreeable.
Sunday 3rd of June.Tactical edged weapon program
"There is no certain defence against a knife." W.E. Fairbairn
"The knife is the easiest weapon to learn to use – and the most difficult to defend against." Den
The knife is a fascinating weapon. It's easily concealable and combined with a committed and able user – it's a dangerous thing. Sometimes deadly. What I liked best about this day, was the way it all started from the beginning… Den didn't take any skills or knowledge for granted but we started from the very basics – "What is a knife fight?" and "What is a knife?"
We went over the knife threat:
"In a knife fight, things go from bad to horrible real fast"… Jim Phillips, US Police Officer
The techniques and the defence. I thought I had a pretty good idea what a knife was, but I have to admit – I wasn't as smart as I thought. There are, of course, the usual knives.. fighting knives and kitchen knives, the machete etc – but swords, screwdrivers, shears etc – lots of things I hadn't really thought of. I knew screwdrivers are common and I've seen them but I didn't know how serious they are. Anything with a (sharp) edge – that can cut or stab can be used as a knife… An eye opener.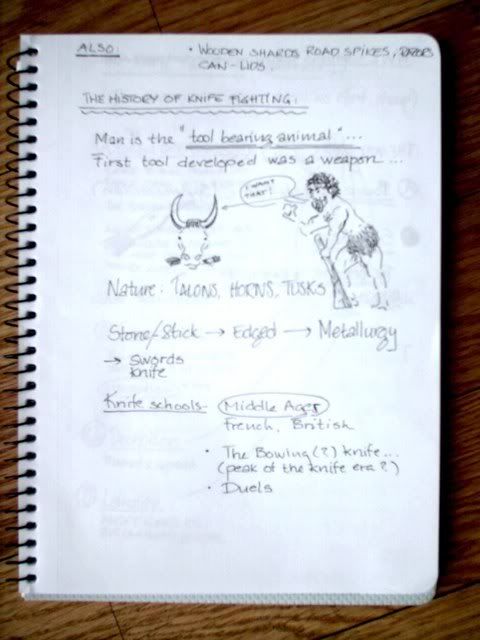 [Editor's note: Lynx took lots of notes during the seminars, and here notebook became a combatives manual, with sketches, impressions, footnotes, diagrams etc. A great learning tool. Den]
We got to learn about the history of the knife and it's attributes. After that Den went over the attributes of the knife fighter… What makes the knife dangerous – it's not so much the knife but how far the person holding it is prepared to go and what it takes. Most of all – we all know what it feels like to be cut. We all fear a knife… We learned about behavioural indicators and cues since the early detection of the knife is crucial – it buys you time… We learned about the high-risk groups and the mechanisms of wounding, haemorrhage, the shock – traumatic and psychological and about loss of function for instance, by damage to tendons and nerves. We got to see some pictures of stabbings, slashes – knife victims and if you weren't motivated to learn how to defend against a knife before that – I think you'd be afterwards!
There's a lot of talk about targeting with a knife – as Den pointed out: a cut always causes damage. And the primary target of the knife is always – the skin. He explained certain legal concerns which I think are great to know about. It's an important but sometimes neglected part of self-defence.
Den made some comparisons of the trauma from different weapons and went over some of the most common myths about knifes and their use. After that he introduced the knife into Lofty's Vital Pyramid and discussed some case studies… After a break – it was hands on and we got into training first to use a knife and then to practise with each other how to defend against it. We learned different way to hold it, and went over the GUN system. We did a lot of drills and had a lot of fun. Bodies aching all over (well, at least mine! )…
In the evening – a few of us went to an Italian restaurant and had some well deserved pasta after that me, Den and Slacky stayed up way to long (again) chatting over cups of tea in the hotel room… Den did a great imitation of my late male dog in the sofa – (actually my dog also liked to have a pillow under his head and stretch out like that Den! I don't think I showed you that picture though…?)
Monday 4th of June
Great day, fantastic weather.
In the evening we had the Neural based training module waiting but before that we went to the historical grounds of Akershus fästning in Oslo to visit the resistance museum. Waiting for the troopers to arrive, me and Slacky did a run at a temporary obstacle course that was place just inside the gates. Well done Slacky! I know it was though but somehow you pulled through! I'm quite happy I reached the top – felt like Queen of the world… Anyway – after a little silliness, and me finding an old canon I wanted to bring home with me, the other guys came and we finally got to the museum and it was intriguing!!! I could've spent hours in there just reading it all through.
Afterwards we went for a stroll down to Akers brygga and the guys had lunch. I sat and sketched in a little pad – it was a lovely view (and so thought the guys too – some really good looking Norwegian women were strolling by but when I was asked to find a good looking guy I was disappointed because I didn't spot one that was even close to "my type"!!! Life isn't fair! lol).
After lunch I headed off on my own in Oslo, the guys went back to Akershus to visit what turned out to be another great museum. I got myself back to the hotel – got some rest and then Slackbladder came to wake me up and we headed down to one of the bars next to the hotel – the guys for tea – I needed to EAT! Not very smart considering Den's upcoming warm up as it turned out, but I needed some food.
The Neural based training module
At 18.00 we all assembled for another training session. This time, Silje hadn't managed to get there in time to join in but instead I got to meet Maria who was also a very nice girl. Brave – I don't think I would've voluntarily held that pad for Ronny's Thai kicks!!! Goddamn it girl, that must've hurt! I had my huge shrimp, salad and mayo foccacia reminding me to take it slow but after the warm up things started to settle and I joined in with Slacky and the guys in the drills.
We started up with Den introducing us very quickly to the Neural based training and NLP for Combatives and Self Protection. He mentioned the famous Jedi Project and the results that came from this type of training. After that he went over the 10 fundamental concepts which in all – highlighted the importance of a positive mind . He explained about the importance of state management and anchoring and how it can be done and about the importance of teaching to all the representatory systems – visual, auditory and kinaesthetic senses… This by modelling. He also introduced the confidence loop – which explained why it's so important to address one's beliefs to fully develop one's potential. He also suggested the one book he usually recommends: "Introducing NLP" by Seymour and O'Connor.
(Personal note – my favourite book on NLP in sports is by O'Connor and it's a really good one! I might get this one as well in the future.)
After this came the warm up and some basic drills – with the weekend's mantra echoing over the floor "control the space around you" yet again... After that Den had the guys (and girls) gather around him. He had Ronny show the Thai kick and then he talked us through a visualisation of it. Very well he did it too. Afterwards everyone had increased their power and performance of the kick. After that followed a few drills on triggering aggression. Den again talked the guys through a visualisation of the switch/lever, in detail. After that we got into groups of 3 and started to work on bringing it out. After an exhausting drill going "all in" (sorry 'bout the elbow Slacky) – we did the last drill, which was great . We got into 2 groups. Lined up – first do push ups, then run through some pad men and eventually get to the spar-pro.. You should then go at it full power and aggression – in our group Slacky was monitoring and providing pressure then when you "got it" – break and turn back off… It was great to see the guys perform. And Maria did really great too. It was really great to share this experience with another girl.
After chatting around a bit, some still slowing down from the last drill (you could almost smell the hormones in the room) we all said our good byes and parted and Den, Slacky, me and our hosts went for a bite to eat. I had had so much fun that when the guys ordered food – I ordered myself a dessert as a treat! Then we went back to the hotel – and had some more tea and chats – then off for bed. The next morning we got picked up by Roza and driven to the airport. It was kind of sad to say good bye, but I know that I'll see Den and Slacky again at the Gutterfighter's anniversary so... I managed...
Great seminar!
Since I've already posted my thank yous earlier in this thread – I won't repeat it all.
Warmest smiles with hopes of meeting up with some of you again,
Lynx