COUNTER-GRAPPLING PROGRAM
Feb, 2006, Merseyside
------------------
OVERVIEW OF THE PROGRAM by Den
After a brief presentation of the concepts we would be using, the class warmed up with another "task-related fitness" routine, this time based on "manhandling fitness".
Next followed our 360 Drill, presented by Brian Lightbody, as a quick review of the striking toolbox. I added a "swerve" adapted from tactical firearms training, by introducing a random "no-shoot" target.
Since we recommend strikes as the primary solution to a grappling assault, we went through some of our methods for striking from various likely positions.
We then taught the defence against common holds and grabs, based on a WW-2 methodology.
Lee Morrison then took everyone through a module devoted to the Clinch. Firstly, using the clinch offensively, then defending when clinched.
Besides the various techniques the class took away a great model of explosive aggression as Lee demonstrated various "dirty fighting" techniques on Si Squires.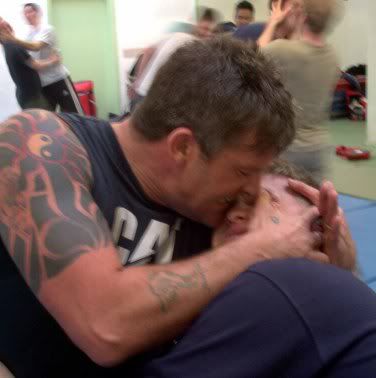 [Lee bites during his dirty fighting demo]
The logical progression was to address attacks from the rear, and this was covered by Gavin Lewis, which wan't much fun for his "enemy" Mark.
Another bout of great "all-in" fighting techniques.
Following a break Mick Coup presented his module on Gouging and Headbutting.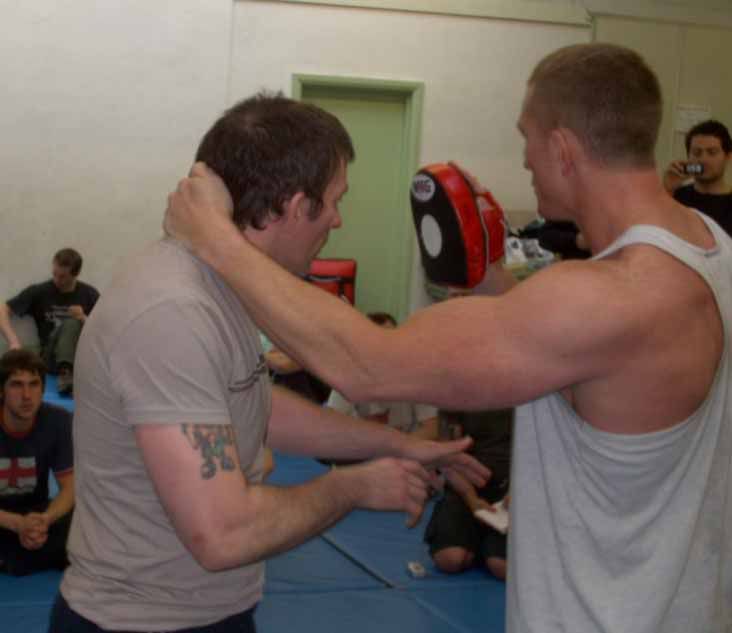 I'd been through some of this down in Cardiff, and was eager to have Mick share this on our seminar. Once again, the "meat puppet"- Jon Fell- suffered.
Needing a solid wall for a particular drill Mick took the group out into the alley, where the lads really enjoyed some "environmental training" in the rain.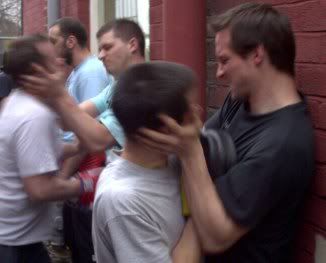 I then examined the topic of Transitional situation, firstly where the assailant is downed, and you may need to finish him off. Again the WW-2 syllabus provided a core, with such techniques as the "Bronco kick"
Tony Da Costa then showed the other side of the coin, where you are down and the enemy is trying to stamp or kick you into a pulp.
This "ground defence" phase is essential, as Murphy's Law means we can all slip, fall or be dragged to the ground.
The final phase was presented by Si Squires. Firstly he demonstrated a solution to the tackle, and started by having Lee take him down with full-bore double-leg tackles.
After the class worked on the drill Si introduced various ground-grappling problems, and how to counter them.
The course finished with an application drill, which involved fighting a mounted opponent, and making opportunistic use of a handy brick.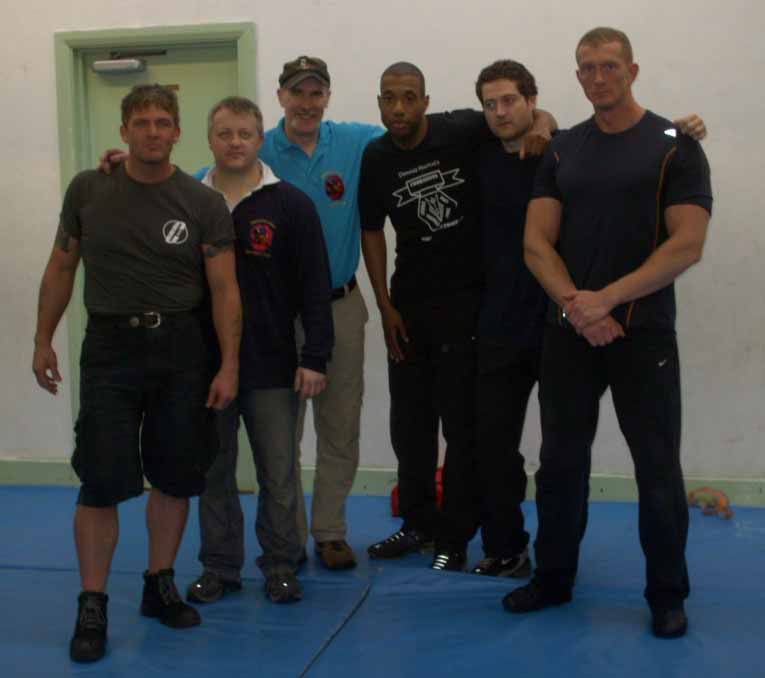 [The course instructors]
Following some final points the seminar ended, and a group continued to the Chung-ku to chat over a scoff.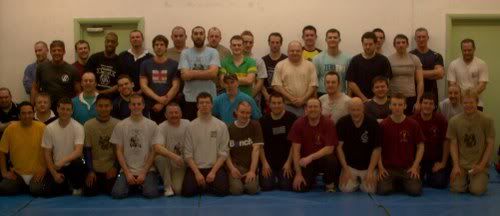 Den
www.CQBServices.com