Back in 2008,
Boker USA
announced a new tactical folder, and sent me one for evaluation.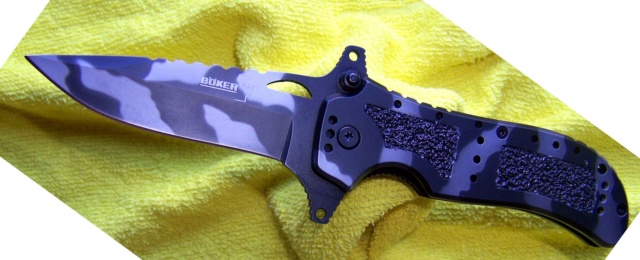 The knife was designed by Terry Trahan, following an in-house design competition.
At first glance it seemed a well made, well thought-out folder, finished in a black/grey cammo pattern. Overall length: 7¾". Blade Length: 3 3/8". Weight: 6.1 oz.
  Delving deeper what I found was this knife offered options. There are three opening methods; the guard-"horns", the stud or the slot. The guard opening method  is especially useful when wearing gloves, a point neglected in many TFK designs. Because the knife has a double guard, it can be a bit tricky to open at first, but you quickly learn how to prevent your grip from obstructing the guard. The double-guard is an asset in heavy cutting tasks, preventing the hand slipping onto the blade [which I've seen happen with other models, resulting in a serious wound].
Another set of options is presented by the clip. There are four mounting positions allowing any combination of tip-up, tip-down, right/left carry.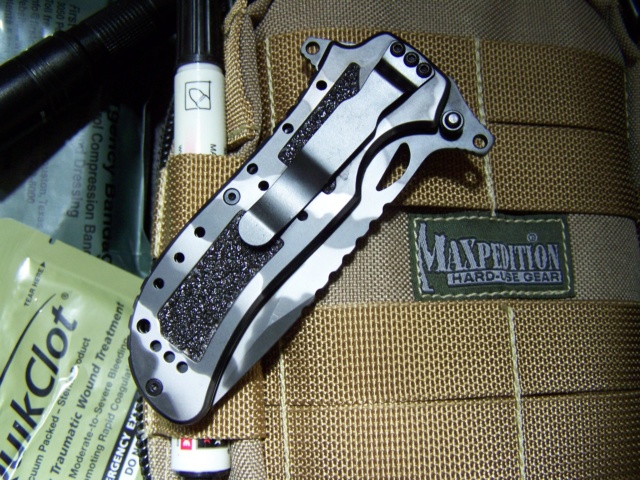 I discovered that, if you position the clip for tip-up carry, then a horn acts like the Wave feature, to open the knife on the draw. I really like this.
There are four sections of abrasive material inlaid into the handles, to increase grip. Some knife owners add bits of "wing-walk" or skateboard tape to their knives for similar reasons. This is a feature I really like.
 The Defender has been accepted by AAFES allowing the knife to be sold in Us military Px's.
It seems to me that this would be an ideal knife for the soldier, or, indeed for the police officer. I have heard of several knives being lost in the rogh & tumble of operations. What the soldier, or police officer, needs is a decent, reliable tool, which won't break the bank if lost and requires replacing.
   I was amazed to find that the suggested retail price of the Defender is $20. After working with the knife I would have guessed the price at at least three times that figure. I've handled cheap knives before, and you usually get what you pay for. The only use I have for a cheap folder is to grind it dull and make a trainer. The Boker Defender is not a cheap knife. It's a wll made, inexpensive knife, terrific value for money. As soldiers are usually on a budget, this knife is even suited to them.
All in all, "a good bit of kit"
POSTSCRIPT
Sadly, Terry Trahan passed away in Spring 2015. RIP Terry