Tactical application program
Review by Nick Engelen
The seminar was held in Steve Powell's Jun Fan Jeet Kune Do Martial Arts Academy 12, Newton Street on 3 April 2005. I had travelled to Manchester the day before and had taken a hotel close to the venue. During e-mail conversations Greg Hall, one of the organisers, was kind enough to offer me a ride to the venue. I met him and his family in front of my hotel at 9.30. In the car I had a nice conversation to Greg's very kind parents. We arrived around 9.45. Outside the venue a bunch of fellow Combatives-practitioners from Devon were waiting. I saw a lot of familiar faces from previous courses and a few new ones. There were around 30 attendees and again I was the only Belgian.
Inside the venue there was an air of excitement. It was a beautiful hall with lots of pictures. Most of the pictures were of Steve Powell and the instructors he brought over. It seems that even Andrea Corr visited the venue once…I still wonder whether that was for training martial arts or not.
I had a nice chat with some of the guys while waiting for the others to come. When Den came in I went over to greet him and had a talk with him and Simon Squires.
After everyone had paid and the equipment was installed, the course started.
Den explained that this program was the third in their Combatives package. The first two are the Hard skills and the Offensive Mindset programs. A large part of the course was an audio-visual presentation.
Den started with explaining the vital pyramid. This pyramid is based upon John Lofty Wiseman's pyramid. The pyramid consists out of the next layers, mindset, tactics, skills, and kit. This day we went into detail on the second layer, tactics.
We were explained the difference between strategy and tactics. Strategy is the overview of tactics. Tactics are more specific.
We also learned that this all should be subconscious. The subconscious takes care of us if we are willing to listen to it. Den gave as example when a fire breaks out people run to the door…everyone knows were the door is and seldom anyone runs in the wrong direction. The problem is that most of the time we don't listen to our subconscious as we pay far too much attention to what's happening in our heads.
There after Den explained the tactical concepts like; light control, surprise, proxemics and pre-emptive action. The latter reminded me of the very first time I attended a seminar in Britain taught by Peter Consterdine and Geoff Thompson. Peter was telling about when he taught his self-protection system to the police. It seemed the police didn't like the term 'pre-emptive strike' so Peter turned it into 'tactical intervention' as it looked good in the reports.
We learned that Fairbairn studied magician's sleight-of-hand to learn about distraction and deception and advised the use of deception and artifice.
To quote Geoff Thompson: 'Use deception and distraction to lead to destruction'.
Then it was turn to my good friend Peter Morgan who gave a wonderful presentation of external and environmental factors. He was telling about how to use the environment as a weapon or as an asset when escaping or better put 'tactical retreating'. This reminded me of a saying by aikido Shihan Toyoda (not the one from the cars). He spoke about 'hitting someone with mother earth'.
By this time we all needed to stretch, so had a short break…
After the break Den continued with the tactical lifestyle.
A lot of this was about habits to position yourself tactically in everyday life such as at bars, in restaurants, while waiting in queues, etc… Criminals will look for victims, not challenges.
A lot of this is common sense. It wasn't about Sun Tzu Bing Fa, Go Rin No Sho, Japanese Heiho or the 36 strategies…
The hands-on part started with a warm-up where after we went through the basic strikes for the people who never did them before.
The strikes were all taught by guest instructors who all did a wonderful job. I was amazed by their creativity concerning developing new drills. Greg taught the Tiger's Claw. James gave a section on the Slap.
[imghttps://img.photobucket.com/albums/v712/DenCQB/JamesheavySlapsasPhil-Wholdspad.jpg[/img]
[James demonstrating a slap drill]
Gavin showed the Hammerfist. Giles presented the Chinjab. Dave took the class though drills on the Axehand, and Larry taught the Kneestrike.
Thereafter we had a look at situational control. This allows us to asses a perceived threat to make sure it's real. 75% of communication is by body language. So we can often learn more from someone's body language than from what they are saying.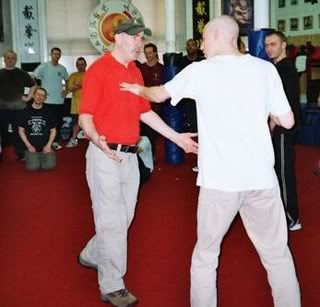 [Den being an aggressor as Slacky uses Situational Control]
We discussed unobtrusive ready positions, the fence and pre-attack cues, both physical and verbal cues.
We also had a look on posturing…during these drill Pete Morgan was my partner. Peter was kind enough to show his concepts on this and I learned lots from him although I did it numerous times on Geoff Thompson's courses.
After the basic strikes we learned to use the flashlight as a weapon. Den discussed various types of flashlights and their use as a tactical weapon.
Then we were taught what to do in a multiple assailant situation. Most of the time the advice is: when you can…run. This reminded me of a comment by Peter Consterdine on a BCA course. 'It's like going on safari where there is a danger of attacking lions. Always take a mate with you that can't run as fast as you.'
We did various drills on this some of them developed by Lee Morrison who unfortunately couldn't attend.
The seminar was ended by a group picture.
Most of the attendees went to the 'Pearl City' Chinese restaurant.
During diner we spoke about all kind of things and had great fun, good food and good tea.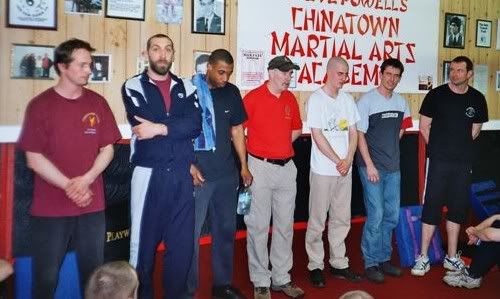 [The course instructors]
It was a day worth remembering and definitely worth the travel. We had a great teacher, a great guest speaker and kind people to share it with. It was nice seeing the familiar faces again both on the seminar as in the hotels and also nice to meet new people. I would highly recommend this course to anyone; you won't be disappointed and surely will learn a lot.
Nick Engelen