EPIC PROGRAM
Reviewed by Nick Engelen
Photos by Al Beckett and Dennis Martin
The seminar was held in the Prescot Leisure centre in Prescot Merseyside on 11 February 2007. I had travelled to Liverpool the day before together with Lynx, a brave young Swedish lady, to meet Den for a coffee and a Chinese meal. After lunch, Den showed us around Liverpool city centre, the places he worked and some places linked to the Beatles. Lynx had her photo taken next to the famous John Lennon statue in Mathew Street.
At the hotel we met up with Alan and Dave from Scotland and had a couple of drinks and some fun together before going to bed.
Next morning after breakfast we travelled to the Prescot Leisure centre.
Inside the venue there was an air of excitement. I was happy to see a lot of familiar faces, talking to them most were 'nervous'. I think trepidation or excitement is a better word. Looking at the kit list alone could give attendees a shot of adrenaline weeks before the event took place.
After everyone had paid, the course started.
The course kicked off with an intro by Den. He explained that the seminar title 'EPIC' stands for Enhanced Performance In Confrontations. It's created to transfer skills and mindset from the gym to the street.
MENTAL POSTURE
The intro was followed up by Den giving us a superb PowerPoint presentation on 'Operator Performance under Intense Psycho-genic Stress'. During this very interesting presentation we learned a lot about what happens inside a person when he or she is placed under tremendous stress. I had already seen this presentation but it's so informative that it will never bore me. To quote Sun Tsu: 'If you know both yourself and your enemy, you will come out of one hundred battles with one hundred victories.'
The course was mainly hands-on so we got a light warm-up under the guidance of Gav. We did lots of different exercises to get the heart rate up and the blood pumping.
Thereafter Den took us through a series of drills which involved 'visualisation', strikes and a NLP-technique which is called 'Anchoring'.
[Den demonstrating on the heavy pad]
The purpose of this was to get into the right mindset or 'state' needed throughout the day's training and giving us a tool to regain that state when needed. [Some researchers believe this is what the ninja did with their Kuji-In finger knitting stuff was about].
THE FEND
Next came my good friend Alan Beckett who explained 'the Fend'.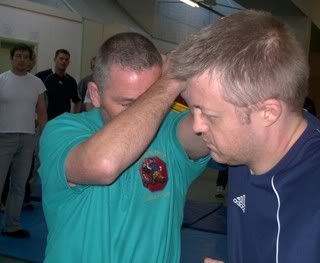 [Al demonstrates the Fend with Si Squires, who has popularised it in Combatives]
This is for when all the situational control fails and the person attacks. I was surprised that such a simple concept could be so effective. We practised this in a series of fun-drills. My training partner was a gentleman named Alban, his enthusiasm during the drill worked infectious and I learned a lot from him. It was a superb module which I really enjoyed.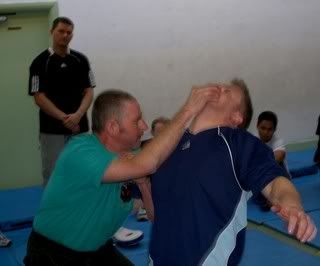 [Al shows a follow-up option to the Fend]
After a short break another good friend of mine Peter, best known by his Internet name 'Slackbladder' presented a module on Jeff Cooper's colour code.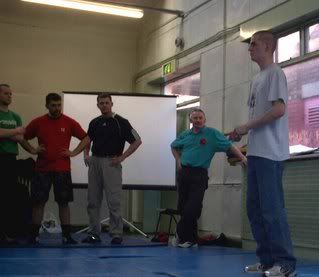 [Slacky discussing Condition Orange]
The information was very informative and presented in a fun way. This was practised in a couple of scenario drills which forced us to be aware of our opponents and the environment. The hardest part was engaging in a conversation with someone while visualising to drop him and keeping a 'poker face'.
To quote Jelly Bryce: 'Meet everyone with a smile on your face and homicide on your heart.'
Den took us through a series of drills that showed us how the body and inner state are connected and how we should train for congruence. Again the importance of getting into 'the state' was shown but this time we also did it by adopting the right posture.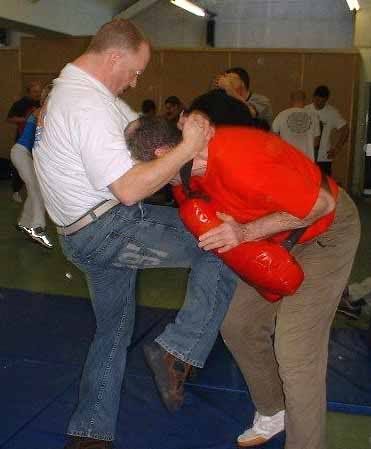 [The guys train during Den's drill]
STATE MODULATION
Another top module was presented by Phil W, a member of a Specialist Firearms Team. He explained that when doing drills like fireman rescuing people from a burning building or armed police-officers in a hostage rescue situation it's very important to train as real as possible and to use your mind and imagination.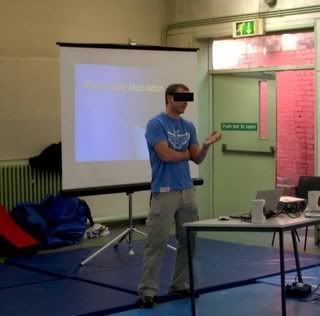 [Phil's PowerPoint presentation included a very harrowing video clip]
The following drills were designed to invoke those 'dark feelings' and after the job is finished to return to normal state again.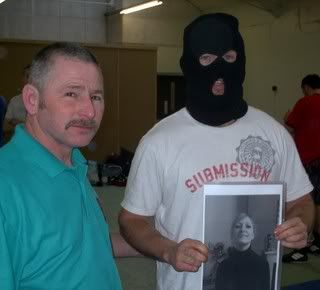 It reminded me a bit of Star Wars where they talk of the dark side of the force, it's this bad dark side that gets Luke through the fight with his dad and it's his ability of 'state management' that helps him to gain back his control and so helps his dad fulfil the prophecy.
Several of the course members commented that this was the best aggression drill they had ever done.
MILLING
Then came a module presented by Giles, it was a session which aim was to develop aggression and forward pressure.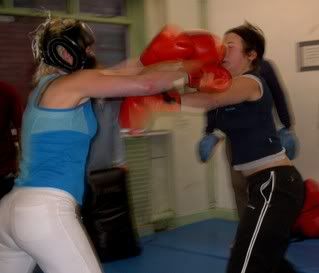 Paul and Steve slug it out, while Ben, from the Leeds Gutterfighters, monitors]
A part was about milling and as I was partnered up with a very good friend it was hard for me to do what I had to do. I also remember the directing staff talking long just before the drill kicked off. Waiting in anticipation remembered me of the book Bravo Two Zero where the author explains that the darkest moment in a confrontation is just before it kicks off and you know it's going to come.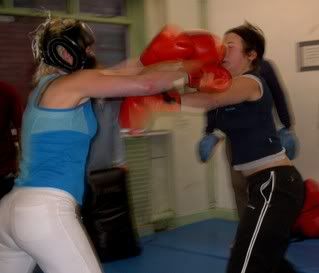 [The girls got stuck in as well]
Next came Simon Squires who does teach for a living. He trains people in a lot of things going from assertiveness to personal development. He presented a very good module on aggression desentisation. It was a special experience to be pushed around and shouted at and having none of this get to me. Usually this kind of treatment triggers an emotional response inside me. This gave me a tool to keep my cool in this kind of heated situation.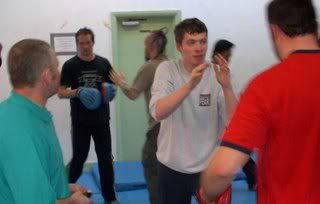 [Nick during a drill]
HIGH-STRESS
Last but not least for today was the stress-scenario. This involved everything we had learned throughout the day. For me it was full of surprises including getting a bottle emptied over my head and getting whacked in the head at a stage I thought was prematurely. After recovering from the surprise training kicked in and I kicked butt finishing the fight by dropping my attacker with a right cross where after axe-kicking the chest of my downed attacker. After the fight I got a big hug and congratulations from Simon 'the man in the suit' Squires.
After regaining my breath I enjoyed the fights of the other people having their fights. All performed very well. Well done.
Especially watching the women perform was a joy for the eye. The Amazon warriors and the Valkyries would be proud of them.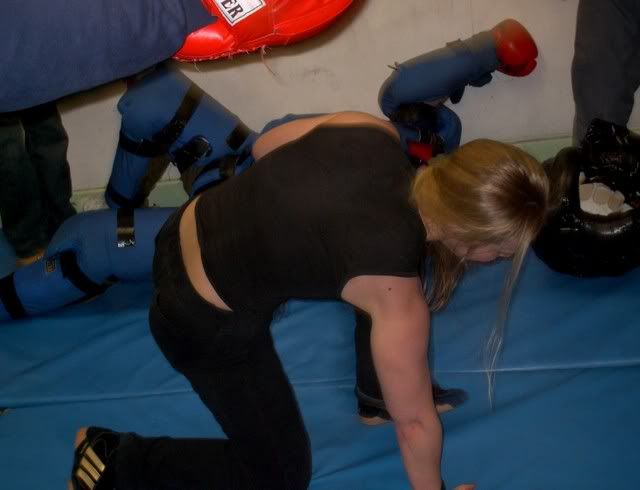 [Lynx under pressure]
After the seminar some of us went for a Chinese meal and had some great conversations about various subjects.
Richie, a seminar regular, was kind enough to drop us of at our hotel. Thanks for that and the good conversations when you read this. This ended the day for most of us.
Next morning I went back to the Leisure centre for a private training with Den. One of the Liverpool Gutterfighters, Ian was on hand to help out. Den started the day with explaining the schedule: 'We will first do some empty-hand then a bit with the knife and then finish with a little Tabata.' At that moment I thought that the 'Tabata' was the name of some well tasting meal.
Training started with a warm-up using the medicine ball. It's interesting to see how versatile a medicine ball is and the possibilities you have with it.
Thereafter we went through some striking techniques, Den kindly pointed out where I could improve in the area of body dynamics and aggression..
After the strikes we had some fun training with balloons and knives. We all got the chance to work with the Hideaway knife.
Then… I found out what the word 'Tabata' means and it wasn't food… Tabata was a Japanese doctor who researched fitness and developed the Tabata-protocol. It was a very hard fitness drill which would remind me of my experiences the next couple of days to almost a week…
Finishing this fantastic training-session we went back to the train station. There I had a nice conversation over a coffee with Den before taking the train to Manchester airport for taking my flight back to Belgium.
It was a great weekend with superb presentations, great people to train with, to eat with, to talk to and to have as a travel companion. Thank you all very much.
Review by Nick Engelen
----------------------
The full AAR and discussion can be found here
Cheers,
Den
_________________
www.CqbServices.com