THIRD INTERNATIONAL COMBATIVES SEMINAR
Merseyside, September 2005
Review by Nick Engelen
The seminar was held in the Prescot Leisure centre in Prescot Merseyside on 3rd-5th, September 2005. I travelled to Liverpool on Friday 2 August. Most of the attendees were in the Rainhill Travel Inn which is close to the venue. When I arrived at this hotel most of the attendees and Den were enjoying a meal and drink. During this evening I had a chat with some of the instructors and I had real trouble controlling my curiosity and not to ask about the program.
Next day after breakfast we all drove together to the venue. It's surprising how smooth everybody worked together to get cabs arranged and the kit and people were divided over the cars and cabs. The air of friendship and being one group of brothers-in-arms was nice to experience. At the parking lot of the Leisure centre a bunch of fellow Combatives-practitioners were waiting. I saw a lot of familiar faces from previous courses and a few new ones. Kit was unloaded and everybody was giving everybody a hand. There were around 50 attendees and most were from England, one from Germany, a couple from Sweden, Wales another was from South Africa, we even had a few from Scotland, I came from Belgium and another was, to my surprise, from the Netherlands.
Inside the venue there was an air of excitement. Dennis had told us that the program would be different this year with some new presentations. I saw someone walking with a wooden broadsword and a wooden Katana which made me very curious.
After the necessary admin, the course started.
Den gave an intro to the course. The course was going to be mainly about WW2 combatives. There were researchers among the instructors that interviewed WW2 veterans and could uncover some interesting stuff about the way they trained.
Den explained that the way of fighting developed by Fairbairn and Sykes was very controversial in that time. Around that time fighting was done by rules, and Englishman was always a gentleman. Poking an eye out or biting someone's nose of was not sportsmanship and against 'the rules'. The wartime manual by Fairbairn was named All-in fighting referring to the syllabus.
This course was about all out fighting, referring to how this syllabus was applied.
RENNAISSANCE LINKS
First Mark Gittins was giving a wonderful presentation about historical comparisons between western martial arts and Combatives. Now I know what they needed the swords for. Following this he discussed the Biddle/Styers knife fighting style. This style was developed for the longer bayonets which in that time looked like sabres.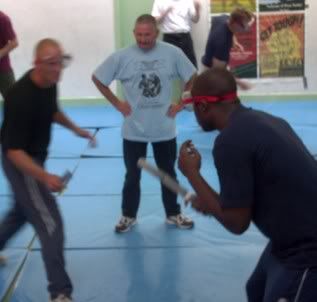 We had a nice knife duelling drill trying all this stuff. It's hard to get out of a knife fight unscratched and we often ended up in a double-kill situation.
CLASSIC STRIKES of WW-2
Then we learned from Mika about the way the allies were trained in this stuff. It seems that the advice 'take one technique and practice it until you are death sick of it' isn't that new.
Brian Lightbody [from the Liverpool Gutterfighters] took us through a light warm-up. I was glad we didn't get the usual exhausting combative warm-up as I was still recovering from the flu.
Several people guided us trough the classic strikes of WW2.
All techniques were open-hand blows showed in books like 'Get Though' and 'Kill or get killed'. The reason behind the open-hand blows are that it doesn't damage your hand when the blow lands off-target and it's easier to learn to people quickly. During WW2 the allies had to be trained in just a few days, and although Fairbairn knew the value of the fist he also knew that punching takes a lot more time to learn properly.
Recently I saw a Korean movie with a nice philosophical view on open hands versus fists.
'If you make a fist, you can't grasp anything.
Not friends, not earth nor sky.
But if you unclench your fist you can hold the whole world'
Fighter in the wind.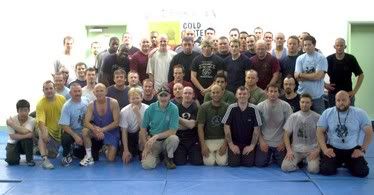 [The class photo]
COMBAT KARATE
This was presented by Greg Hall. It's developed by Kimura sensei who researched the body dynamics involved in throwing ballistic objects. With this knowledge he developed a way of striking that enables you to strike with your entire bodyweight to deliver high impact. This is also called the 'double hip'. I already learned about this from Peter Consterdine. Greg's way was a bit different as Greg's teacher Steve Powel studied with Kimura during another period. Interesting to see how things develop in time.
COUNTER-CLINCH MODULE
Thereafter the charismatic Lee Morrison showed us his way of working from the clinch. A clinch is a situation you get in when you close the distance and grab the opponent to make your opponents punches ineffective. You see this often in boxing matches.
KILLING POWER
Then the height of the day was a drill developed by Mika. It was about developing killing power. We hit dummies full power with a variety of strikes. After giving 100% my hands were bruised and painful.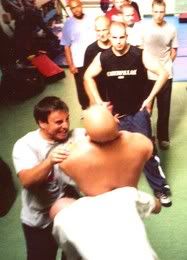 [Steve from the Liverpool Gutterfighters, during the power drill]
Most of the attendees drove to the Chung Ku Chinese restaurant on the docks where we had a few drinks, laughs and dinner.
SUNDAY PROGRAM
The second day began with the same air of excitement. Everyone was fired up for another great day. Although some of us seemed as having had a tough night.
EQUIPMENT FACTORS
Day two of the seminar started with "Clothing & Equipment Factors in Self-protection" by Den. We discussed the reason of clothing both daily and tactical and the influence of fashion which is often not very positive. From Clothing we moved on to equipment. Den quoted Lofty Wiseman from 22nd SAS 'It's better to have and don't need than to need and don't have'. Den advised us to choose equipment that can be used for various tasks. Den discussed illumination, pro and contra of Surefire flashlights, medical kit, communication, etc…
ARDUOUS DRILLS
After the warm up, Tony Da Costa and the Liverpool Gutterfighters presented 'Vasbyte Drills' Vasbyte is South African, in Dutch we have the saying 'je ergens in vastbijten' which translates as 'hanging on into something' or 'going for something' or 'not giving up until the goal is reached'. The drills were exhausting; the encouragement was great from participants and directing staff. Nobody let himself down. I think the mental attitude we develop in this kind of drills is useful not only in self-protection but in all walks of life.
ERIC ANTHONY SYKES
Next came Phil 'Bristol Bloke' Matthews with a great presentation about 'E.A. Sykes- The forgotten hero of Combatives'. Although there is virtually nothing known about this mystery man Phil managed to dig up a lot of information.
After this very informative presentation Den took us through a Sykes training routine known as the 'Crowd drill' where you simulated a multiple assailant situation. The drill was short but very intense. The perception of time slowed down. My techniques felt sloppy and slow. It seems this is a normal reaction to adrenal stress.
WINNING ON THE GROUND
'Ground Fighting' was next with Si Squires giving a progressive series of drills. These climaxed in a highly charged, 'boot party'.
FORWARD DRIVE
The topic of 'Forward Drive' was addressed in detail. Firstly, Alan Beckett discussed the requisite attitude and mentality in a great presentation. I was impressed by his way of bringing the information. It was very informative and brought with passion.
Then Den showed the tactics and techniques. Finally Al showed a mean streak with a series of arduous pad drills. These drills were to speak about intensity, equal to the 'Vasbyte drills'.
STRESS SCENARIO
This all culminated in a scenario drill… For many among us this was the cherry on the cake of this wonderful weekend.
Giles led the Potential Instructors group in creating and running the scenario, while Si donned the padded suit to act as aggressor, and take on most of the fighting action. After about twenty bouts he took a break while Giles took over, then Si took over for the remainder.
This drill started with a beasting, where after I had to fight Si. To add a stressor we weren't allowed to use a fence which was funny to see as people were really constraining themselves not too. Personally I didn't have the time. I was pushed in a corner and whacked in the head. I just had my black belt in Aikido over a month and I wanted to use some of it in the scenario drill, planning to make Si airborne for a couple of feet after a thundering kiai. As we all know most plans don't survive first contact. So I ended up with Musashi's advice of start hitting and keep hitting until all is over.
After this drill many had to go home to take up their daily tasks for the week coming.
The remaining attendees drove to the Chung Ku Chinese restaurant on the docks.
During diner we spoke about lots of things but most about our day and we all came to the same conclusion; it was a magnificent seminar. The food was great; the waitresses very nice and the company very enjoyable.
The learning experience didn't end after the last drill. People talked about their experiences in the hotel bar and Mika told us a lot about knives and Shanghai police use of the daggers. One attendee nicknamed Slacky showed us a part of his collection which again was reviewed by Mika.
This ended a second great day.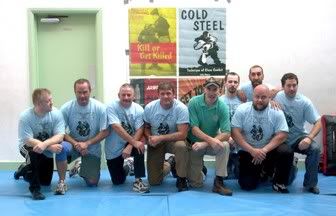 [The instructors]