US SEMINARS 2006
In May we were hosted in USA by our old friend Nick Hughes. We presented our HARD SKILLS Program in Gastonia NC then a week later in Philadelphia.
Forum regular Chris Fry of New York wrote the following terrific review:
The May 20th Dennis Martin Hard Skills 1 Seminar was held at Ernie Kirk's Premier Martial Arts in Glen Mills, PA. One of the nicest dojo's/schools I have ever seen the hosts were very accommodating to all of us coming in form out of town to partake in this excellent course.
When I arrived at around 9:30 I was met in the parking lot by an old acquaintance of mine from the FASTDefense Association Jeff Menapace. A great guy, Jeff has been a regular contributor to Den's forum for some time with posts over 1400. It was good to see Jeff again and hook up for some quality training.
[imghttps://img.photobucket.com/albums/v712/DenCQB/USA%202006/ChrisFry-s.jpg[/img]
[Chris working on the pads during the seminar]
Upon entering the school I met eyes with Slackbladder. It was my distinct pleasure to meet and train with Slack last fall at the WE Fairbairn Combatives Camp 2 held in Cobourg. I realized then that Slack was a serious practitioner of combatives as well as an honorable and all around nice guy. It was great to see Slack again and he came with Den to the U.S. to act as his AI (being one of Den's Cadre of Instructors). More about Slack later.
Everyone mingled and got prepped for the course. Once the crowd died down around Dennis I approached him and introduced myself. Dennis is one of the most approachable instructors I have ever met, greeting me with a smile and handshake like we had known one another for some time.
Nick Hughes got things started at a little after 10am with a short introduction and explanation of the potential language barriers we may experience listening to Den with his Liverpool accent. Nick is a mountain of a man, well spoken with a been there, done that air of confidence. It was because of Nick that Dennis was here and we were all grateful. More about Nick later.
Dennis began the Hard Skills Course with a well-put together power point presentation outlining his CQB Services Offerings and methodology. Whatever he teaches must be easy to teach, task relevant and easy to learn for both the beginner and advanced student. It is a combination of his experience of practical door works in the UK, WW2 Combatives and NLP. Den is quick to add that he has used ALL of the techniques he teaches. He then laid out the various courses he offers to include:
Hard Skills
Offensive Mindset
Tactical Applications
Counter Grappling
Knife Program
Bodyguard Courses
Stress Inoculation
You can read more about his courses at his web site
www.cqbservices.com
Next he started off with Confrontation Options to include Flight, Negotiation, Submission, Posture and Fight. Den expanded on each giving details about efficacy and appropriateness of each option. Following this he spoke about the critical role instinct plays in self-protection and an explanation of the Vital Pyramid as utilized by himself and his friend John "Lofty" Wiseman of the S.A.S. Thrown in were tidbits of historical information about the SOE, British Military and the correct interpretation of the word Combatives.
The Concepts and Principles of CQB/CQC were next to include Speed (different types of speed), Aggression and Surprise. He then compared and contrasted these with Fairbairns Concepts of Artifice, Force, Vehemence and Shock including some history about Fairbairn and his days in Shanghai.
The next part of the lecture covered Dennis CQB Services Concepts of Unarmed Combat outlining the concepts he follows and presents in his programs. These included Offensive Mindset (#1), Compressed Curriculum, Non-Telegraphic Strikes, Shock Impact, Generic Targeting, Forward Drive, Intensity, Continuous Attack and finally Whatever it takes to WIN! All of these concepts were explained in detail. For me, like many others I assume there were numerous "light bulb" moments at which time previous experience or learning was solidified or justified by Den's explanation and interpretation of these key elements.
Finally Dennis outlined his Task Related Conditioning for Combatives. This was especially interesting to me having read a lot of reviews of his courses in the UK and the integral role fitness plays in his programs. Dennis explained Aerobic Fitness and Anaerobic Fitness and the role/importance each plays to combat and combatives training. His explanation of the ATP system was as succinct and detailed as I received in Anatomy and Physiology in College and made a hell of an impression. It seems that my fitness regimen has always been disconnected from my martial arts and combatives training. Now, I have some ideas on how to remedy that problem.
This concluded the power point presentation and we broke for a 5 min water and bathroom break.
Once everyone got back into the training area we started the hands on material with a Task Related Fitness Warm Up of jogging, running, hopping, shuffles, circles, drops/sprawls, sprints forward and backward. When everyone was warm Den broke us into two relays and we began shuttle runs covering three interval distances and either running to and back or to the marked area, dropping for push ups or "press-ups" as he calls them, mountain climbers or crunches. Sometimes we started on our feet, other times we started the evolution from our backs or stomachs. Great fun and a killer. Before this course someone at his forum advised bringing a bucket, I didn't quite need the bucket but my lungs were pressing on the back of my teeth. This lasted 30 min or so but felt like a lifetime.
We broke for hydration but before leaving the room Den circled us up for a group recital of his Positive Self Talk/ Affirmation. Let me just state here that I have been to a fair share of courses and many of the instructors lecture about the importance of Mindset and its critical role to winning in a confrontation. This was the FIRST course in which this Mindset was trained throughout the course with these Positive Self-Talk and Affirmations. All of us saying it together, out of breath, exhausted was an arm-tingling experience and it not only developed our attitudes it bonded the attendees into a cohesive group instead of numerous pairs of unknowns. Pure gold. By far the best part of the course in my opinion. NLP in action.
The Hard Skills covered comprised the Tiger Claw, Elbow(s), Slap, Backhand Slap, Knees, Axe Hand, Chin Jab and Hammer Fist. Den and Slackbladder demonstrated and explained each skill in detail and we all went to work on the pads.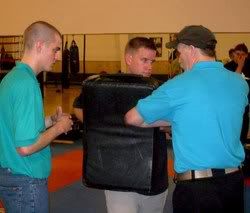 On some of the skills the fitness element was integrated making us perform an exercise and then strike the pads or shield with prescribed technique. Hellish. My partner for most of the skills was our very own Lobo. A great guy, Lobo hits hard and works hard. A pleasure to meet and train with you bud. Like all of the guys I have had the pleasure of speaking to or meeting from the forum, top shelf.
Dennis, Nick and Slack moved around helping out diagnosing and correcting problems with positive feedback. Slackbladder worked throughout the entire course right along with us and observing Pete taught me as much as the rest of the course. Slacks seamless ability to Access State or "flip the switch" when performing a drill is something to witness. He becomes a different person, a force to be avoided. I am a firm believer that you do not judge an instructor by his merits, credentials or performance of given material but judge them by the performance of their students. Peter is an excellent representation of Dennis instruction and speaks volumes of Dennis ability to convey his information to others.
After another break, Positive Affirmation and hydration Nick and some of his guys did a presentation on some Kit or equipment they like and utilize. Good stuff.
We were all treated to Nick's presentation on Escaping from Grabs and Holds. A no- nonsense, simple methodology that works from the ground up or from the head down. Limited to six skills it was again a real eye opener and something everyone should check out if you get the chance to train with Nick. Also, Nick just released a series of DVD 's and you can check them out here: FIST website
[Nick on the pads]
The conclusion of the course was a killer pad drill in which we all had the chance to perform and review ALL of the skills we worked on that day. Again a combination of Task Related Fitness and Hard Skills it was a terrific summation of the days offerings.
After thanking Nick, Dennis and Slacky the cameras were broken out, numbers exchanged and goodbyes said. Many of us hung around for the post training "scoff" or meal at a local Chinese joint. A great way to end the day. For those of you interested in PUC you NEED to attend one of Dennis Martins courses sometime soon. I believe Nick plans on bringing Den back to the States next year and I am planning to host hi m up in NY sometime in 2007 as well. Don't miss it.
-----------